Life of a VM in a department store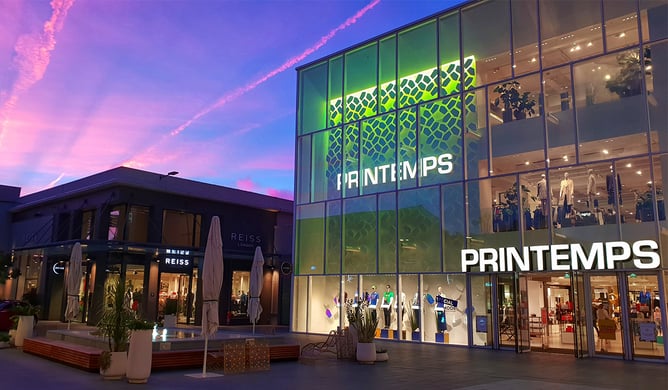 Life of a VM in a department store
"Visual merchandiser"... an exciting profession with such a poorly defined job description. Depending on the status, we all have the same job, yet we all perform very different tasks. I'm going to tell you about my experience in department stores and my vision of visual merchandising in world famous brands.
Department stores generally function in the same way, with a Visual Merchandising Manager and his/her team of VMs. This team, situated at the head office, is directly linked to the artistic and commercial management of stores to oversee simultaneous operations deployed in the group's multiple points of sale.
Unlike traditional points of sale, department stores focus on a global image and customer experience, and the target clientele is not just one age group or social-professional category. Every customer who comes in must be able to find what he wants in the stores.
Highlighting different brands in the same scenography
Department stores have the particularity of selling many brands from one location; my role as a visual merchandiser is to combine all these brands with different identities and styles to create coherent and attractive scenographies. It is very important to section brands by sportswear, casual and formal as the different categories are not presented in the same store areas, but strategically along the customer path.
In order to have scenographies that stand out from specific brand images, I try to mix and match brands. For example, I composed this look with a turtleneck and a Maje sweater, an Isabel Marant jacket, a Valentino red trench coat and a Lancel bag. Mixing brands means having an infinite choice of assets to pick from and being able to express your creativity and vision of fashion. The best way, in my opinion, to detach oneself from a brand is to always be on the lookout for trends, new associations, fashion shows. Sharpen your knowledge and style to better get inspired by everything that surrounds you.
Highlighting different brands on the same stand
In addition to dressing mannequins with mixed brands, we also set up multi-brand stands called concepts. Concepts target a specific clientele and group together similar brands, in terms of budget and style. It is important to note that some ready-to-wear concepts only group brands together but have them placed separately on their own racks without mixing.
The merchandising is then created according to colors and lengths of the products, and a central scenography composed of a few mannequins makes the link. These silhouettes are dressed and accessorized in the opposite direction of the corresponding brand, to create a red thread and attract customers to the entire area.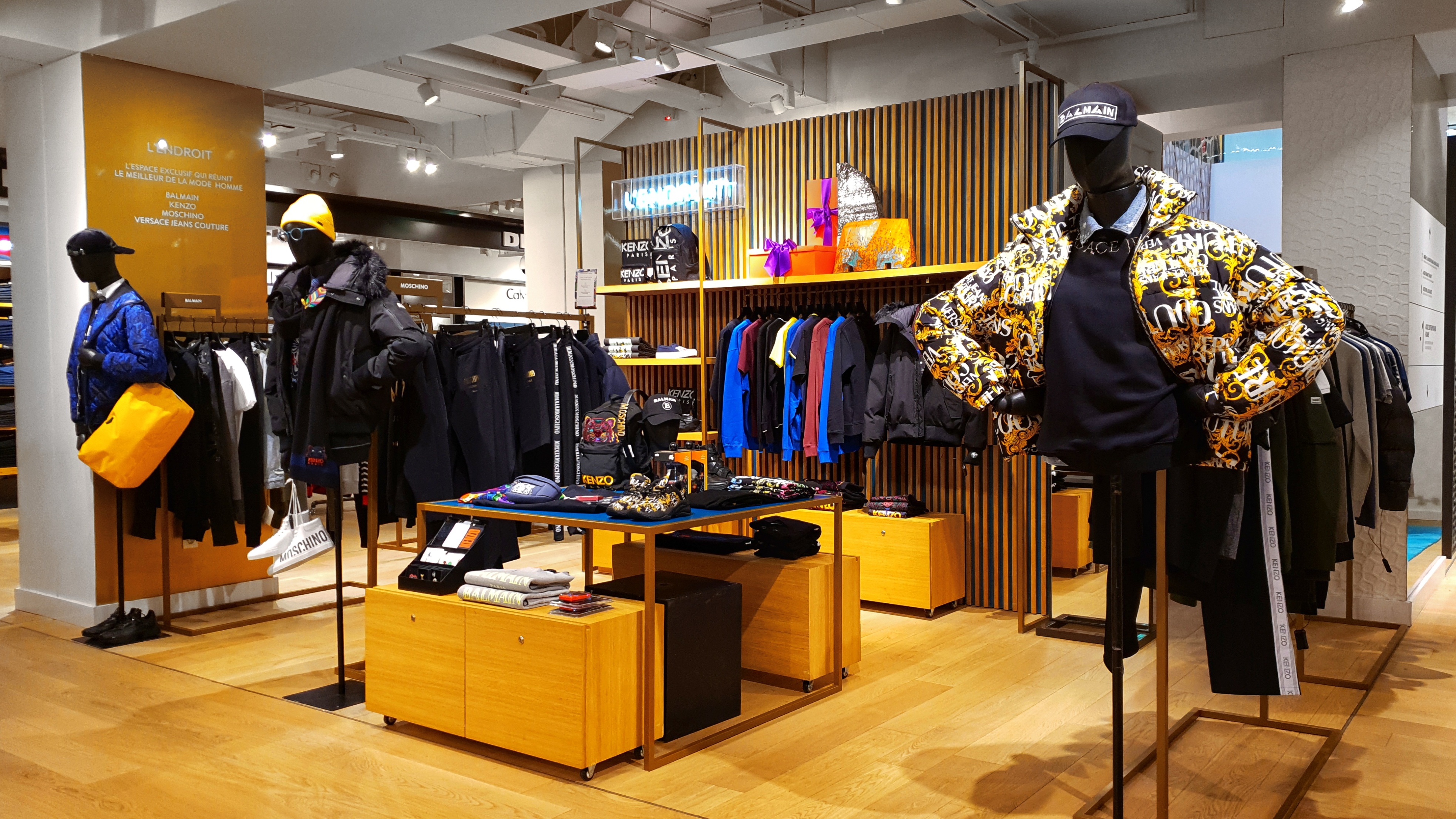 On other concepts such as men's accessories, I will not hesitate to completely assemble brands together. Products are associated according to the targeted clientele and the colors of bags or accessories. For example, a formal table and a more sporty wall can be found on the same stand. The merchandising of a stand like the one below is constantly changing as products are received in limited quantities, so articles must be adjusted and changed regularly.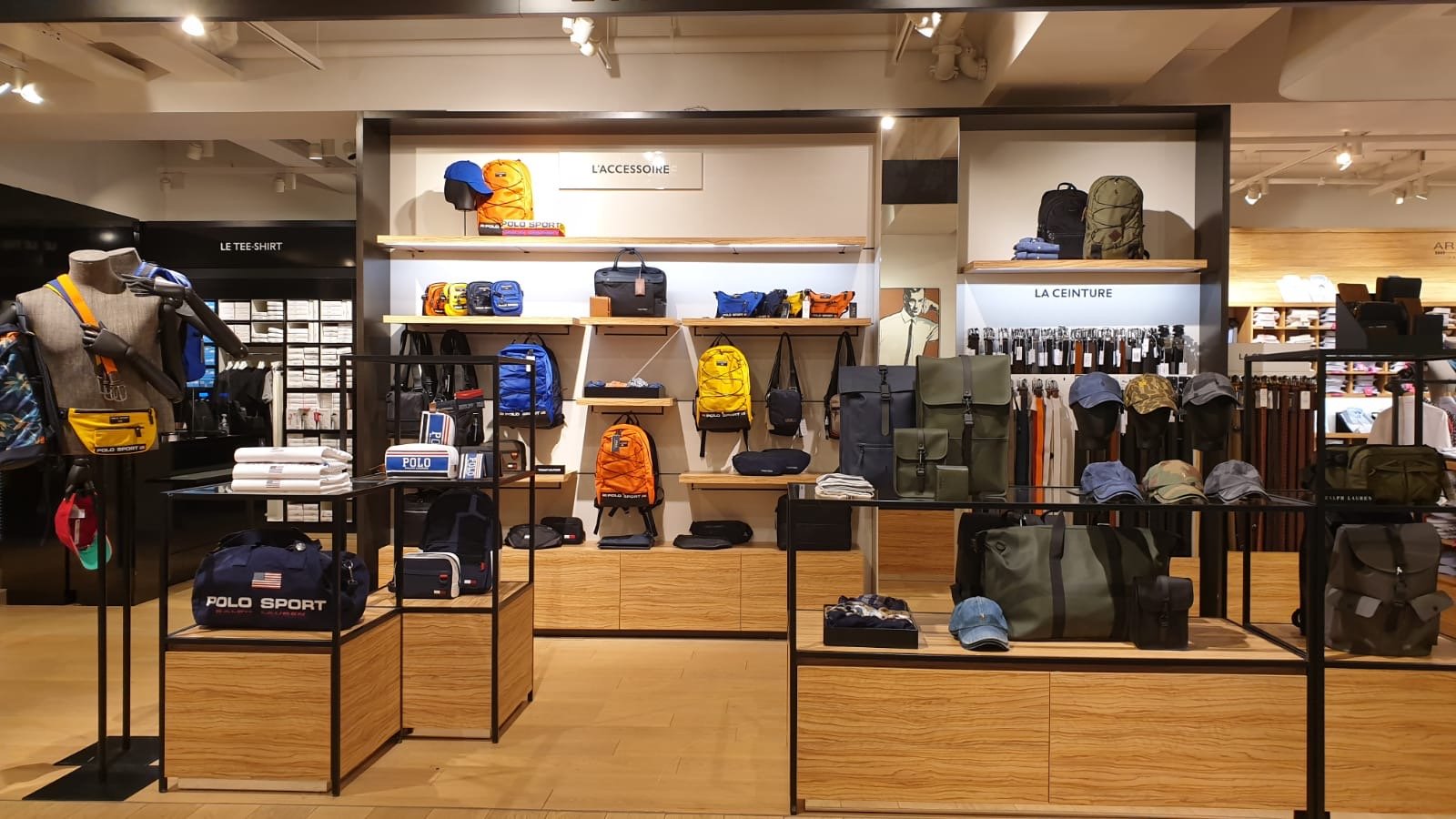 Mix fashion and art in a single universe
A sewing workshop, a painting workshop, or a sculpture workshop... fashion is a form of art. When you enter a department store you don't just want to buy ready-to-wear, you also want to experience and discover things. That is exactly what our team did by creating the following concept and exhibiting the works of the artists Margot and Elise from the gallery Femâle and those of the artist Aso.p next to pieces sold in the store. You can find luxury leather goods, designer clothes or luxury shoes. All these pieces are not selected at random, they must attract the eye of the customer while keeping the harmony of colors. Each piece was selected according to the paintings exposed nearby, as for luxury leather goods, only nano bags were displayed as they were the it-bag that season.
In order to fully go through with the idea, we made the whole concept like an art exhibition. Red lines on the floor delimited each piece of furniture, and museum-like labels announce the prices of the leather goods at the foot of the steles. Our jobs as visual merchandisers is to think of all the details to place the customer in a life-like environment and make the difference in their minds.
Animations that make a difference
Keeping customer experiences a the heart of my work, I organize in-store animations. With the marketing team, we set up the necessary space and material to explain to customers what is going on in stores and how they can participate. On software such as Illustrator, I prepare a text and associated visual that will be sent to a sticker cutting machine. It is then posted on a black totem used to announce animations. All the furniture is installed by our teams, and the totem is placed in areas with high traffic levels.

The signage
It is possible that implementing in-store signage is part of field VMs' job description, but in some cases, like mine, it is a big part of the regular VM team's tasks. As previously mentionned, we use an adhesive cutting machine for all logo and material cut outs. While creating effective and understandable signage for the customer, we are also guarantors of the brand's visual identity. As we are used to creating multiple signages, we are better prepared to standardize the stands and make sure there is harmony throughout the store while going from brand to brand. The Department store is not only a large regroupement of stands, but a coordinated stores.
My VM team also takes care of setting up different POS displays in the store. They can introduce promotional offers, loyalty card explanations, or showcase attractive discounted prices. The most important aspect of these displays is that it must be clear to customers in a few seconds what the message is and what brand or product it relates to.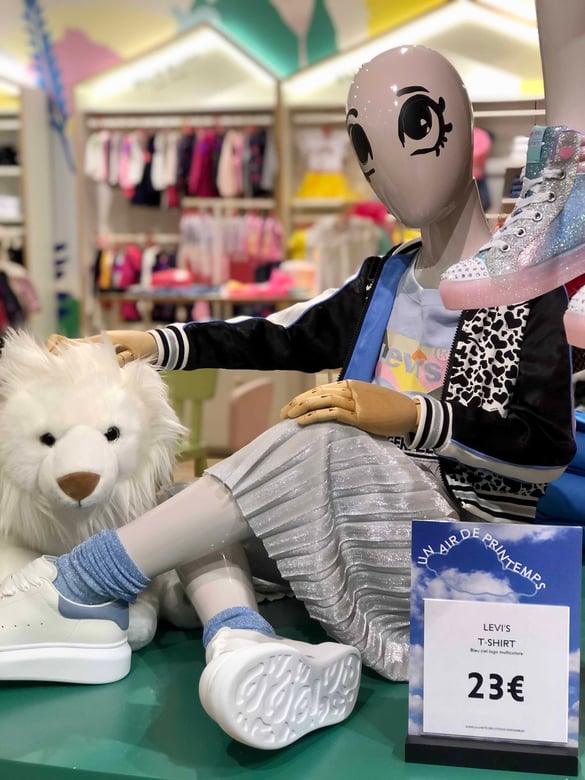 Whether you are a visual merchandiser in department stores like me, or for any other retailer, you know that our job is so much more then the aforementioned tasks. The most important though, is that we love what we do and have a good team to work with.
About the author
Having always been attracted by decoration, Anaïs has developed over the years a certain interest for fashion. Graduated in 2017 from the MJM Graphic design school, she has practiced her passion for visual merchandising in several department stores, Galeries Lafayette and Printemps in France. Since late 2019 she shares her work and inspirations on her instagram account @anais_visualmerch.
All the displays and the visuals were realized by Anaïs and Nicolas Hucher.
MORE ARTICLES BY THIS AUTHOR