Beauty digital inventions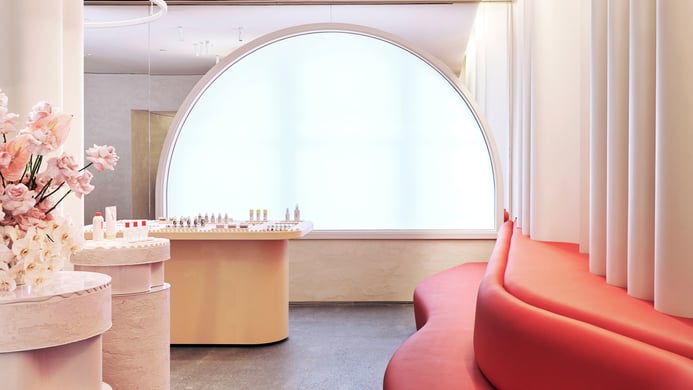 Beauty digital inventions
In the past few years, we as consumers have witnessed various developments in beauty sector. The rise of several game changing technologies have led to the emergence of new beauty era full of new inventions, connectivity and increased market share.
Earlier, digital and beauty may seem like not so compatible but today, is it possible for you to imagine the beauty sector without digital inventions? The way we interact with the brands has been changed over the years, all thanks to such inventions.
"Digital is really transformative in the way companies operate today. It has a big impact on business, it has a big impact on the way you interface with consumers, but you have to have the full support of the executive committee and of the CEO," said Lubomira Rochet, L'Oréal's Chief Digital Officer.
With this makeover of beauty industry, there are trends that have completely overturn the traditional use of beauty products and are altering the industry. As brands are taking their steps towards creating the future of beauty, let's witness the concepts, technology and trends that are turning the beauty industry on its head and giving us all entirely new ways to be our most beautiful selves.
Digital beauty era development
Beauty collaborations
"Connecting to the start-up ecosystem is key for us to develop digital services," said Lubomira Rochet, Chief Digital Officer at L'Oréal. "We want to understand what are the trends in the market and have early access to disruptive products that consumers will love."
To do so brands are trying to collaborate in order to provide the products that would define the future of beauty. For instance, L'Oréal has partnered with Station F to host a startup ecosystem under one roof. All this helps to bring innovation in beauty with the help of talents from the L'Oréal outside world. Digital innovation is high on the list of L'Oréal's innovative priorities in order to produce smart beauty and cosmetics products.
... Read more in the E-book 👇🏼
Smart beauty products
Brands are trying to move forward and expand their base of beauty products by joining the hands with technology and providing the products based out of need and concern.
"We really want to think about what the connected bathroom will look like in the future for the beauty industry," Guive Balooch, VP of L'Oreal's Technology Incubator. Brands are definitely trying to take over the traditional beauty format and coming up with the smart products to define the future of beauty industry.
Kérastase Hair Coach, the brush features sensors and score the quality of hair and monitor the effects of different hair care routines. Such beauty products are not only breaking the traditional products boundaries but also generating a niche market where technology helps the beauty segment to provide and cater to the very specific needs of the clients. As the brush is linked to the application that provides additional insights and customized product recommendations, such definite products help the clients in a personalised way.
Many people are their own critic, but now as beauty industry is taking a leap of revolution, here is a smart mirror known as HiMirror. It has been combined with Amazon's Alexa voice assistant to offer advice on skin care tips, makeup tutorials and also shows the ability to track "skincare goals" when using new products. Also, HiMirror is able to recommend and buy beauty products on the go from the online retail giants. Such advancements in the beauty not only makes the customer journey simple but also brings convenience by skipping out the several unwanted stages and pain points during the client journey.
With summers approaching, it's time to wear your Skin Track UV. Yes, its just a sensor that could be worn on your watche or necklace. Literally. This innovative sensor can scan it with your phone to retrieve the UV data once synced with the app. So, why not try it this summer and get the ultimate measures for UV protection. La Roche Posay is also proposing Porescan and PHScan.
Digital beauty plateforms
"Estée Lauder Nighttime expert", an app aimed to offer personalised skincare solutions and beauty techniques through voice enabled assistants is definitely attracting the digital clients .
"We are thrilled to collaborate with Google to be at the forefront of creating personalized consumer beauty experiences via the emerging world of voice activation," said Stephane de La Faverie, Global Brand President, Estée Lauder. "Combining our beauty expertise with Google's technology allows us to build on our digital evolution and offer the latest innovation to further enhance our consumer experience."
... Read more in the E-book 👇🏼
Such upcoming platforms reduce the pain points for beauty customers and enabling voice activation helps the brand to go beyond stores and online to in-home. Thus, making the brand accessible to digital savvy consumers who wants retail on their phone.
Glossier's launched a rep program where sellers are given their own landing page on the Glossier website. They need to complete it with their favorite products from Glossier and a video introduction keeping in mind the identity of Glossier. As a result, this online platform allow the representatives to become the member of the brand and generates a close relationship with its customers. Such unique strategy to use the website through representatives not only brings the client closer to the brand but also creates a sense of belonging.
Conclusion
"I think the future of beauty will be more and more about technology, about quality, about formulation, about individualization, about digitalization, about responding to specific needs." - Jean-Paul Agon, Chief ExecutivO officer, L'Oreal
In addition to the rise of personalization, beauty industry is dividing itself into segments with many brands emerging as digital and tech friendly that cater to the specific needs of the customers. As beauty is experiencing a fundamental shift, brands need to try and embrace total inclusivity in order to make shopping experience more personal to customers where digital can play a paramount role.
In order to stay ahead of the curve, the key is to remain optimistic on technological advancements, embrace them and therefore, provide personal solutions to clients. Moreover, the formula to be in direct contact of customers, is to be digital friendly, adaptive to new consumer shifts, and innovative to provide micro-customisation. Overall, a complete digital proposition based out of the client needs.
... Read more in the E-book 👇🏼