Top 9: 2020 Parisian Window Displays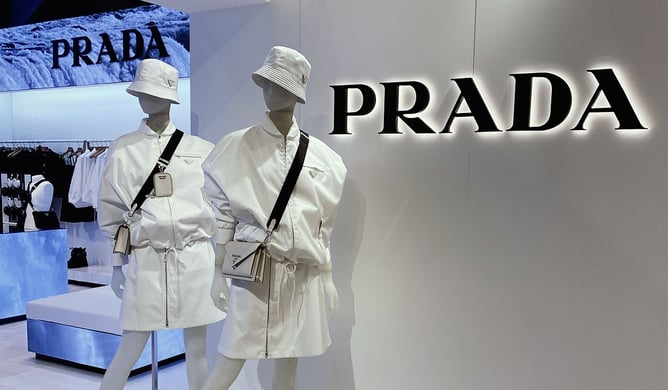 Top 9: 2020 Parisian Window Displays
2020, a year that has been spent mostly online and inside, but brands and retailers have stayed audacious, innovative and creative to continue offering immersive experiences to customers. 2020 calls for a listing of the 9 most liked Visual Merchandising set ups on Parisian Instagram account @visualtrendsmerchandising. Louis Vuitton, La Perla, Prada...Who will clinch the 2020 year-end No. 1?
9. LV2 Collection. Louis Vuitton, Pop-up Store, New York City.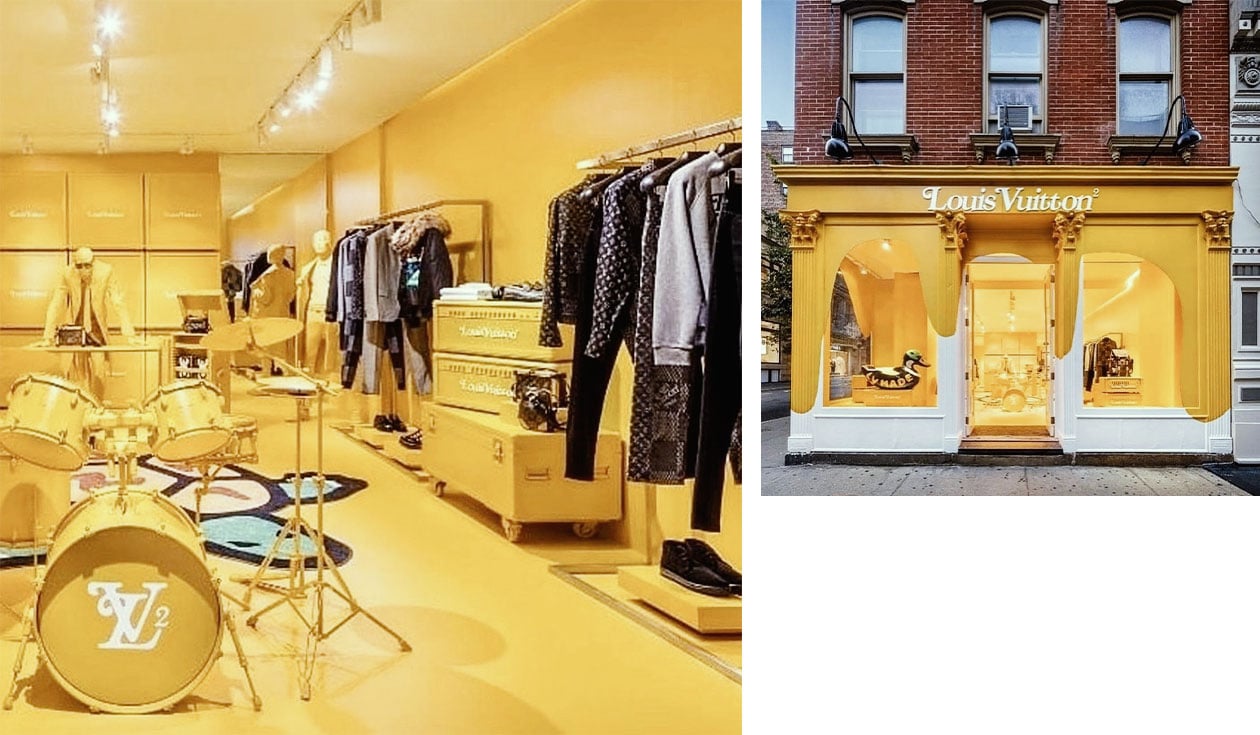 Photos: Cpp Luxury
The second edition of Virgil Abloh and Japanese designer Nigo's collection, the Louis Vuitton LV² Collection has launched at a new, temporary boutique in New York City's SoHo neighborhood. Marrying both creatives' artistic styles, the collection features a selection of ready-to-wear items, footwear and accessories, including some of the Louis Vuitton iconic bags reinterpreted by the inventive style. The boutique itself was hard to miss, being an eye-catching bright yellow color. Design elements looked out of the ordinary: "new brand logos to match the collection, a yellow drip effect, large duck sculptures, custom Marshall/LV speakers, turtle rugs inspired by Nigo's human made rugs, customized drum set and oversized mannequins." The store opened on August 28th and was open until mid-October.
8. "Un air de sud". Galeries Lafayette Haussmann, Paris.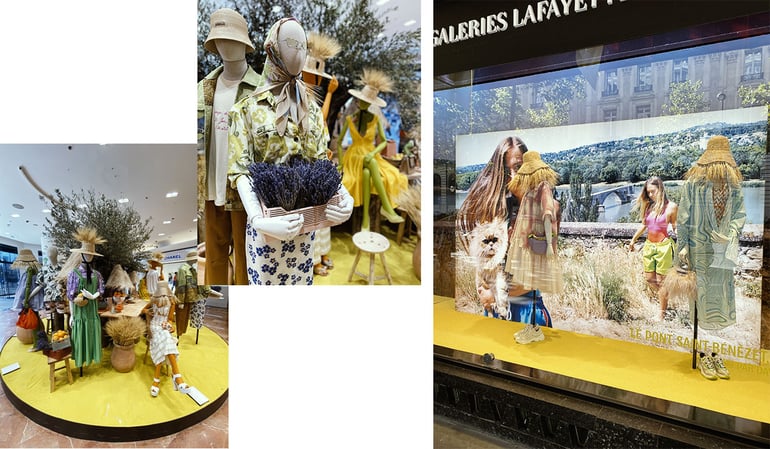 From July 7 to September 1, the south-east region of France invested in the Parisian department store. Through a selection of local brands and sun-filled activities, this was an opportunity to showcase the warm art of living and the colorful landscapes of the Provence-Alpes-Côte-d'Azur destinations to the Parisians. For the occasion, the Franco-American fashion photographer David Luraschi captured typical landscapes of the region to dress Boulevard Haussmann's store windows. The 9 displayed pictures were taken at the Negresco Hotel in Nice, the port of Saint-Tropez, the calanques (creeks) and the Provencal village of Moustiers-Sainte-Marie, capturing their very essence in a raw and authentic style. The immersion continued in the heart of the Galeries Lafayette, where a fine selection of products and emblematic brands from the south exhibited. All this was theatrically arranged in a casual chic setting filled with wicker baskets and olive trees.
7. "L'événement en couleur" Le Bon Marché Rive Gauche, Paris.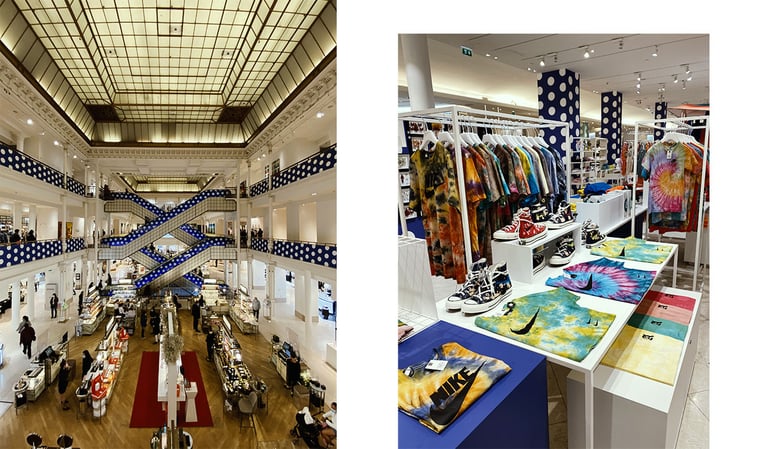 Le Bon Marché Rive Gauche and La Grande Epicerie de Paris have, from May 16 to June 21, associated spring with colors. Thanks to the creativity of Le Bon Marché and its partner brands, a wave of optimism swept through the stores' spaces. Fashion, accessories, jewelry, beauty, home, children, food... Every store was as colorful as ever. At the heart of the exhibition, the celebration of color paid tribute to craftsmanship. Traditional techniques from around the world were cheerfully revisited and modernized: each designer, each home, its vision between embroidery, basketry, tie & dye prints or hand-painted motifs was honored.
6. Rainbow. La Perla, Sloane store, London.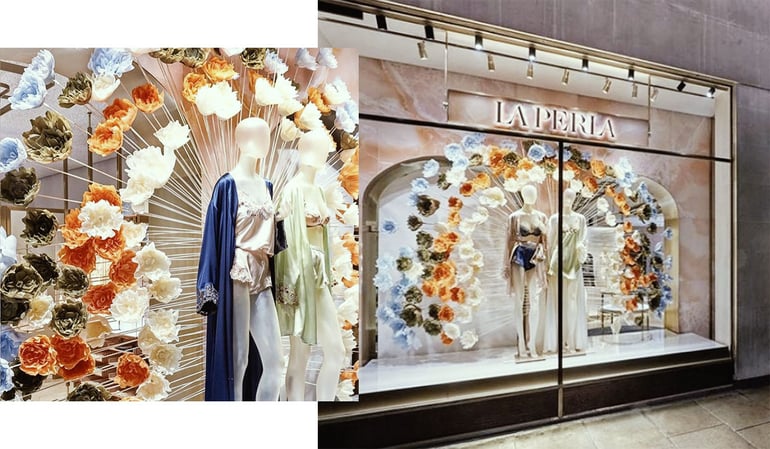 Photo: Harlequin Design
Harlequin Design Studio, a Londonian Agency who designs, produces and installs award-winning retail arrangements, windows and pop-up spaces, can be proud to have launched the new lace 'Maison Rainbow' collection in collaboration with La Perla. For the global rollout of these windows, 4,500 handmade paper flowers were produced and mechanically fixed to a metal structure to create an explosive floral rainbow. The windows represent hope and celebration of the new collection. Everything was designed and produced using recyclable materials to reduce the impact on the environment.

5. "Béton". H&M Haussmann, Paris.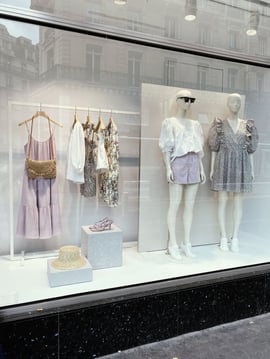 Concrete is back in the limelight after decades of neglect and preconceived notions. In fact the material, whose first application dates back to Ancient Rome, is in a perpetual quest for innovation. Concrete is a mineral composite material that lends itself to a multitude of functions, decorative treatments and finishes. In a gentle allegory, the adjacent window display combines the harshness of the polymorphous material with the lightness of the Swedish brand's Provence-inspired summer collection.

4. Surround yourself with colors! Missoni, Saint-Honoré, Paris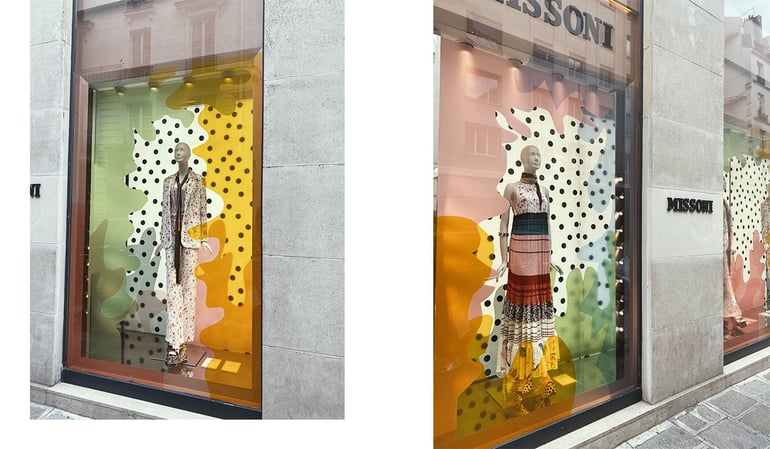 This window, inspired by the work of the American artist Erik Winkowski, perfectly illustrates the Italian brand's summer collection. We fall in love with how he plays with reality and virtuality to plunge us in his colorful, playful and poetic universe.
The Missoni branding works: the zigzag stripe, the very essence of the family label, blends perfectly with the other layered prints.

3. "Bain". Monoprix, Champs Élysées, Paris.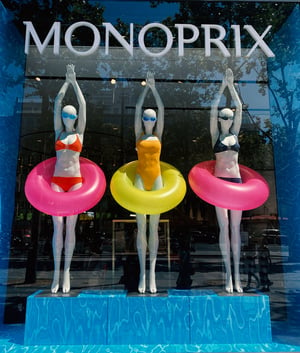 Playing on the theme of sports, Monoprix put the spotlight on a selection of swimwear. The window pops out not only because of its use of colors, but also of its repetitive composition. The repetition is even more obvious thanks to the unique pose of the models, who are ready to dive. Part of the sportswear mannequin collection the manufacturer Hansboodt creates, these mannequins are part of a constantly evolving innovation industry, where retailers must be one step ahead in the scenario of this segment. The collection includes more than 40 positions, all of which are designed, developed, sculpted and printed in 3D in their in-house design studio.

2. "Rio mon amour". Vanessa Bruno, Galeries Lafayette Champs Élysées, Paris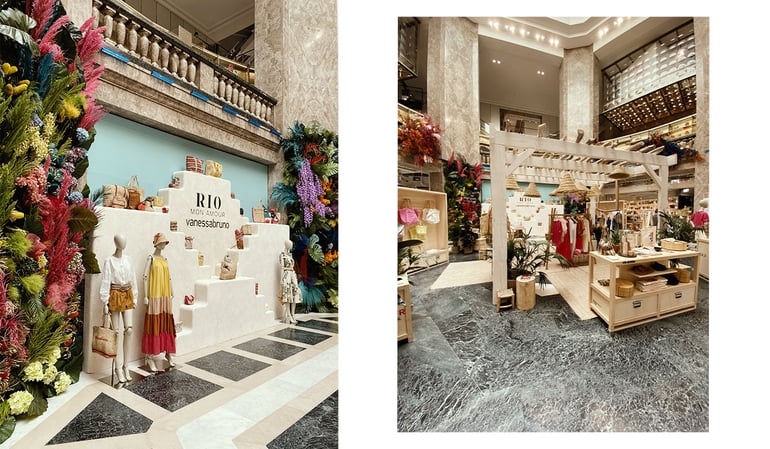 Every summer, Vanessa Bruno unveils a new tote bag inspired by a vacation destination. After Saint-Tropez and Copenhagen, it's Rio de Janeiro's turn to be honored. To support the launch of this new design, the French brand turned Galeries Lafayette Champs-Elysées's atrium, from June 18 to July 20, into a Brazilian-inspired pop-up store. Visitors were submerged in a temporary space conceived as an invitation to travel with a colorful collection, a true ode to exoticism that encourages escape and combining classic shopping bags, raffia in all forms, T-shirts, skirts, dresses, blouses and accessories. The jungle, mixed in the urban scene, creates a solar-infused space, influenced by the architecture of Rio and its beach huts.

1. Prada Abstract. Prada, Printemps Haussmann, Paris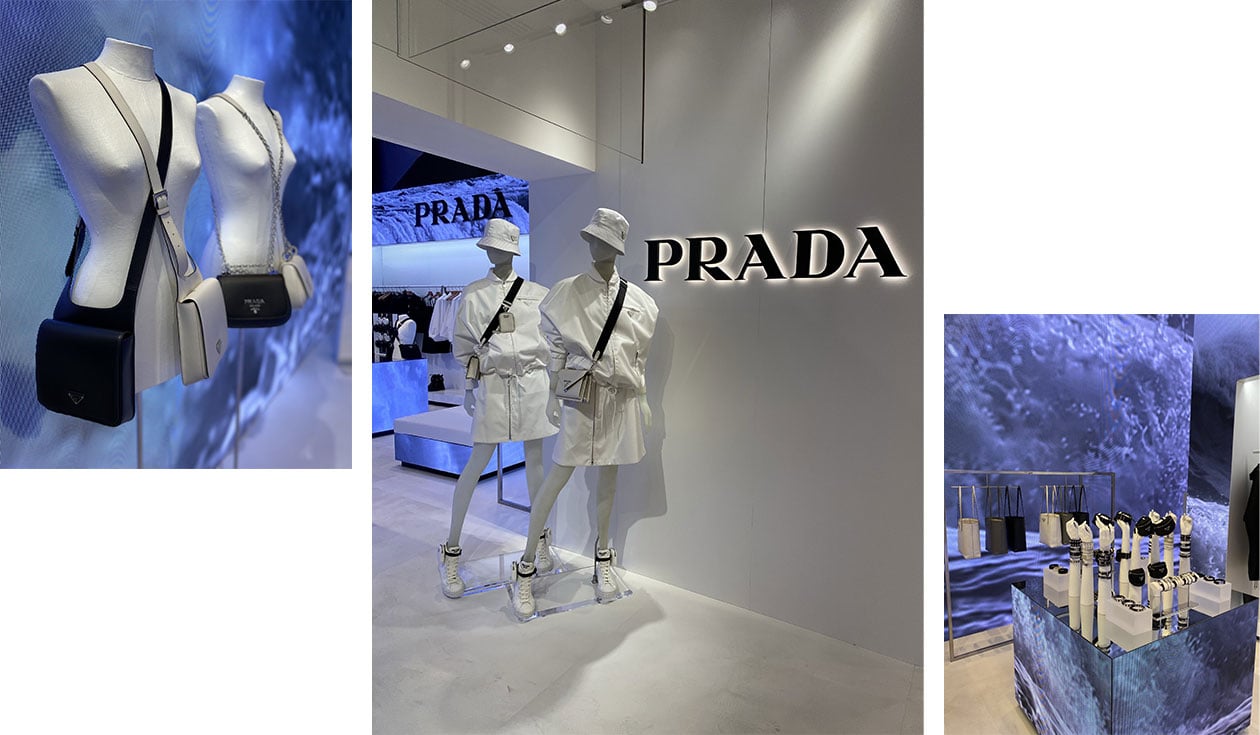 From September 3 to October 18, the Italian brand invested in Printemps Haussmann's atrium and the window displays.
In this 90 m2 space, installed in the heart of the Parisian department store, shoppers could discover a pop-up store entirely designed in black and white for an unprecedented immersive experience. The areas showcased a selection of clothes, bags, accessories and shoes exclusively and pre-launched at Printemps. On LED video walls, we could watch the projected nature shows of ice breaking the Perito Moreno glacier in Argentina, Niagara Falls, ocean waves and Antarctic landscapes! From walls to ceiling, the entire space was inspired by a colorless universe to underline Prada's contemporary identity.
Who are the writers - Stephane Mathieu & Noemie Lauth from Visual Trends Merchandising?
Stéphane created the Instagram account in January 2018. At the time, he was in charge of defining the merchandising strategy for the Kiabi brand, and travelling the world was part of his job description. "I was doing a lot of competitive intelligence and therefore had a lot of relevant and interesting content that was ready to be shared" describes Stephan. "The craze was immediate, and the audience for my account grew very quickly, to reach, today, a little over 20,000 followers".

In July 2020, Stéphane joined forces with Noémie, who created together Visual Trends Merchandising, an agency specialized in Merchandising. "The objective? To provide our clients with a 360° merchandising vision with a pragmatic and operational-oriented approach. We offer tailor-made services including consulting, deployment, solution research and trainings.