Sustainable interiors and window displays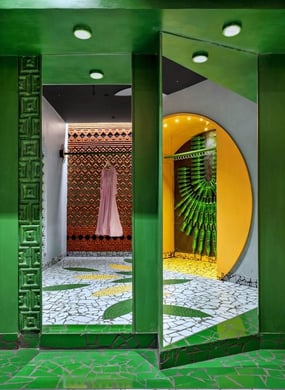 Sustainable interiors and window displays
Over the years, the importance for sustainability has grown immensely with brands now putting sustainable design at the forefront of their collections. Although a majority of brands are now incorporating sustainability in their business model, these sustainable efforts have been consistent in two pioneers of the movement: Vivienne Westwood and Stella McCartney. Vivienne Westwood has been working with the Ethical Fashion Initiative since 2010 to promote activism and attain social improvements in developing countries, while Stella McCartney has been using recycled materials in all her collections. Brands such as Adidas, Burberry, Inditex Group, Kering Group, are setting targets to reduce their emissions by 30% in 2030. However, in order to truly be sustainable, it is important for retailers to start incorporating ethically sourced and sustainable materials within store interiors and window displays. Customers want brands to not only offer "green" products, but also transform stores into eco-friendly environments as they themselves are becoming more environmentally conscious.
As part of the Visual Merchandising sector, it is essential that retailers create responsible designs in order to keep the social and environmental impact to a minimal by using recycled materials wherever possible. One of the biggest challenges with retailers is that the majority of window displays are created to promote seasonal campaigns which, by definition, are temporary. Therefore, brands are now trying their best to make sure that window displays can be recycled, upcycled, down cycled or disposed of in an eco-friendly manner. Brands can use eco-friendly materials such as reclaimed wood, recycled plastic, ecological or recycled wood, non-toxic and 100% recyclable metals, cardboard, fabrics and 3D printing to create attractive yet sustainable window displays.
Physical stores are the backbone of a company as the displays are a symbol of the brand identity and an extension of the brand image. Therefore, sustainability should not only focus on the manufacturing processes or labour environment but should also be incorporated in retail design. Being sustainable does not necessarily mean giving up the brand aesthetic; on the contrary, it promotes creativity within the brand. The following stores are a few examples of sustainable interiors and window displays worldwide which prove that you can be sustainable, ethical whilst maintaining your brand aesthetic:
Selfridges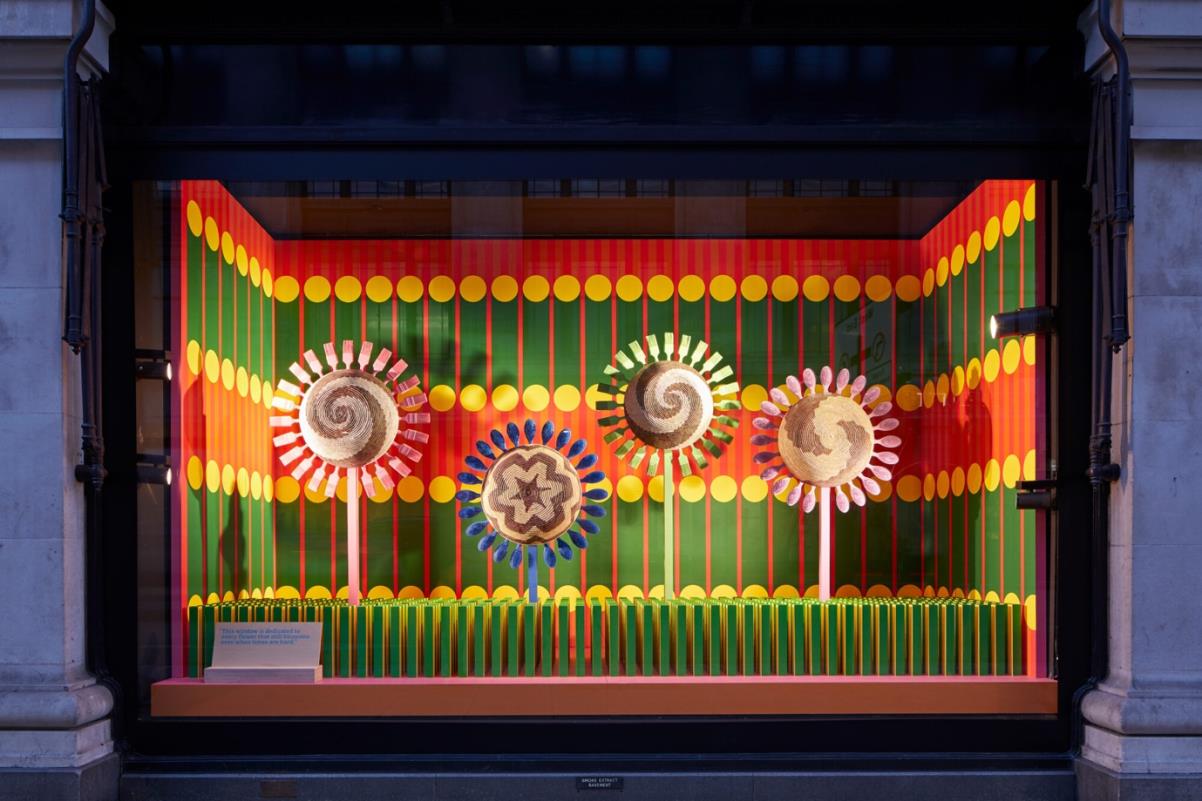 'Project Earth' window display for Selfridges created by Artist Yinka Ilori
Materials: Handwoven basket, FSC hairbrushes and paint brushes, laser cut FSC paper and eco-friendly paint.
Ace and Taste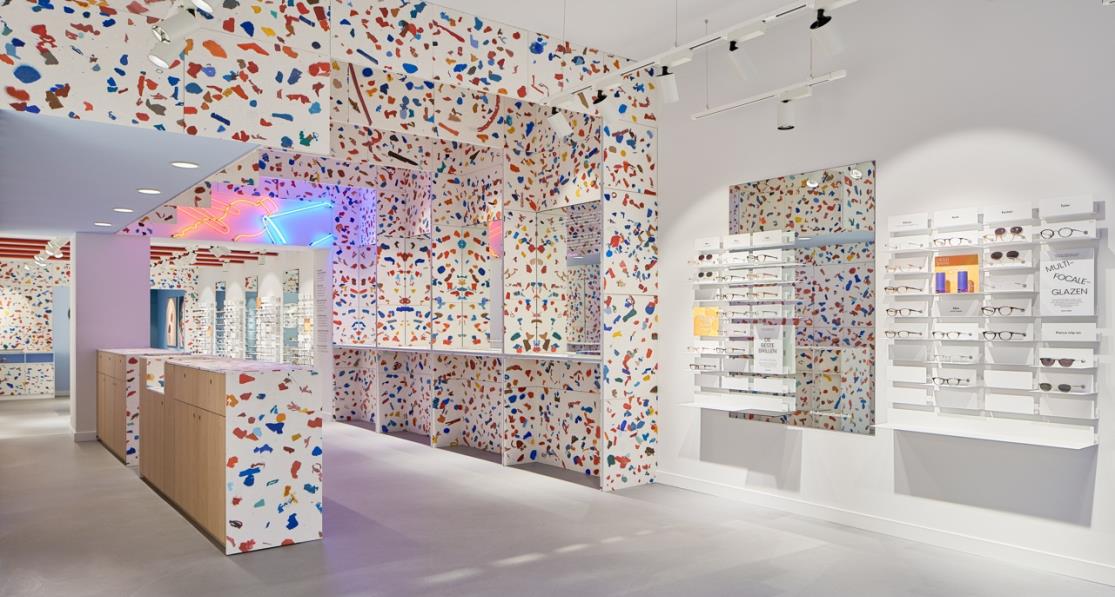 Photo: Lennart Wiedemuth
Ace & Tate, an eyewear company used colorful terrazzo in their Antwerp, Belgium shop interiors made from recycled plastic waste sourced locally by Plasticiet.

The recycled plastic used is polyethylene, a very common material found in industrial and construction appliances and domestic products such as food packaging, kitchenware and toys.
Shefali Studios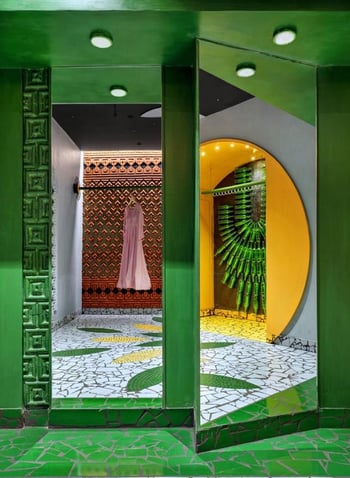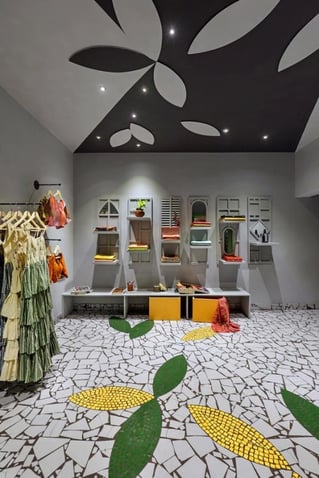 Sustainable Interiors for Shefali Studios - Photo: Tejas Shahz
Sustainable interiors by Manoj Patel Design Studio for Shefali Studios in Vadodara, India.

Materials: Clay roof tiles, beer bottles, damaged flooring tiles, window shutters, unused
sample tiles, metal rings and mirror cladding are among the waste and recycled materials that the design team used to reimagine the boutique.
Ganni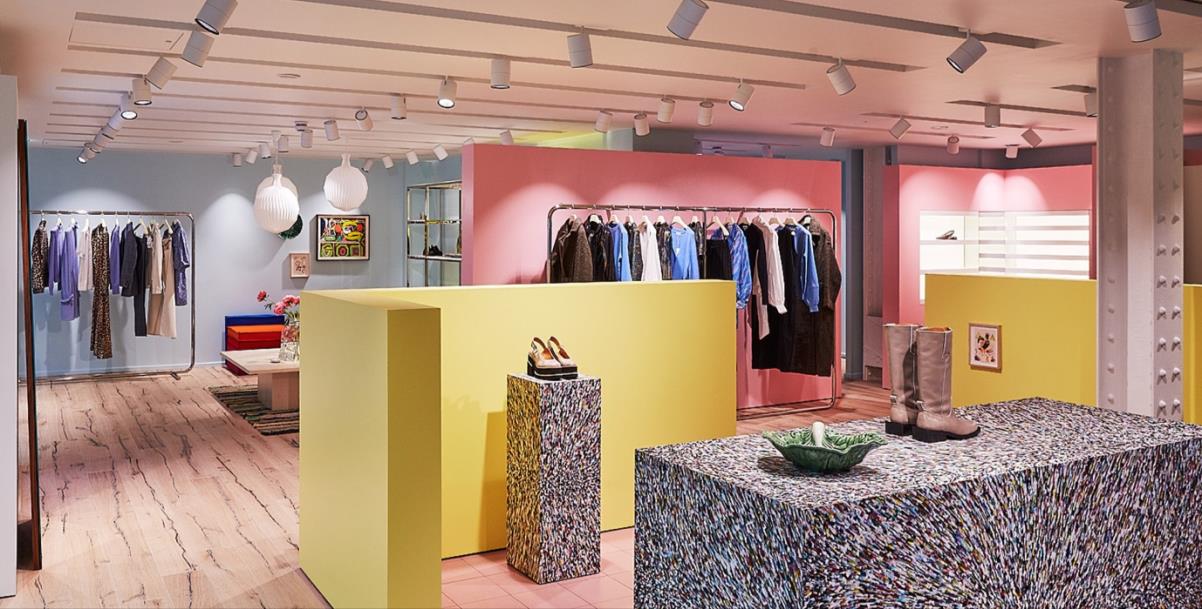 Ganni Store Interiors - Photo: Dezeen
Ganni's first flagship store in Soho, London designed by Stamuli Architecture Materials: Display units made from recycled plastic waste by Smile Plastics and trays made from pressed fabrics alongside second-hand upcycled Alvar Aalto stools, and vases made by Danish artists created from single-use plastics.
Anthropologie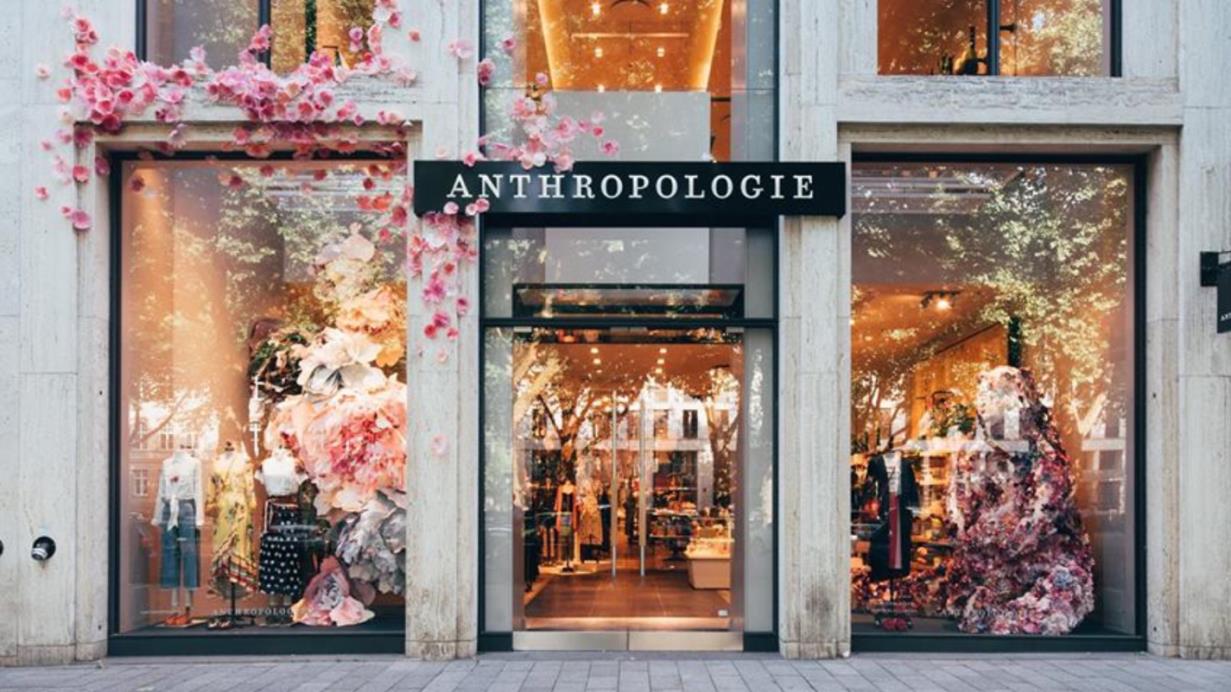 Anthropologie Window Displays - Photo: Anthropologie
Anthropologie is known for their handmade window displays for example their current fall
windows are made using hand cut pieces of recycled paper from old anthro bags, catalogues, books, magazines.
Reformation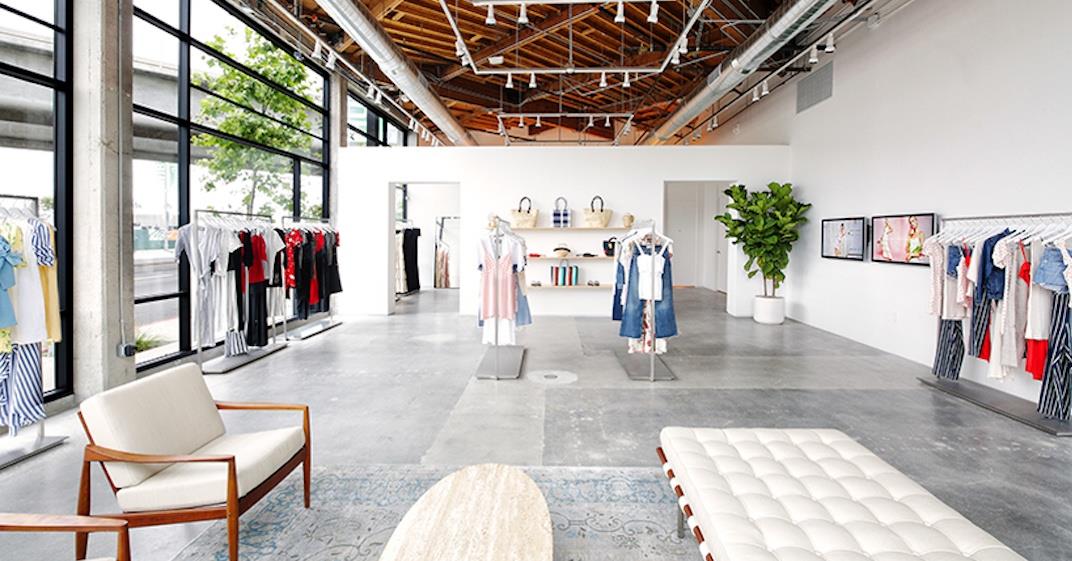 Reformation Store Interiors - Photo: Reformation
Reformation stores feature natural and recyclable materials, including vintage furniture, eco-friendly fabrics, reusable totes, hangers, and garment bags. They also offset 100% of electricity usage with wind energy.
Aesop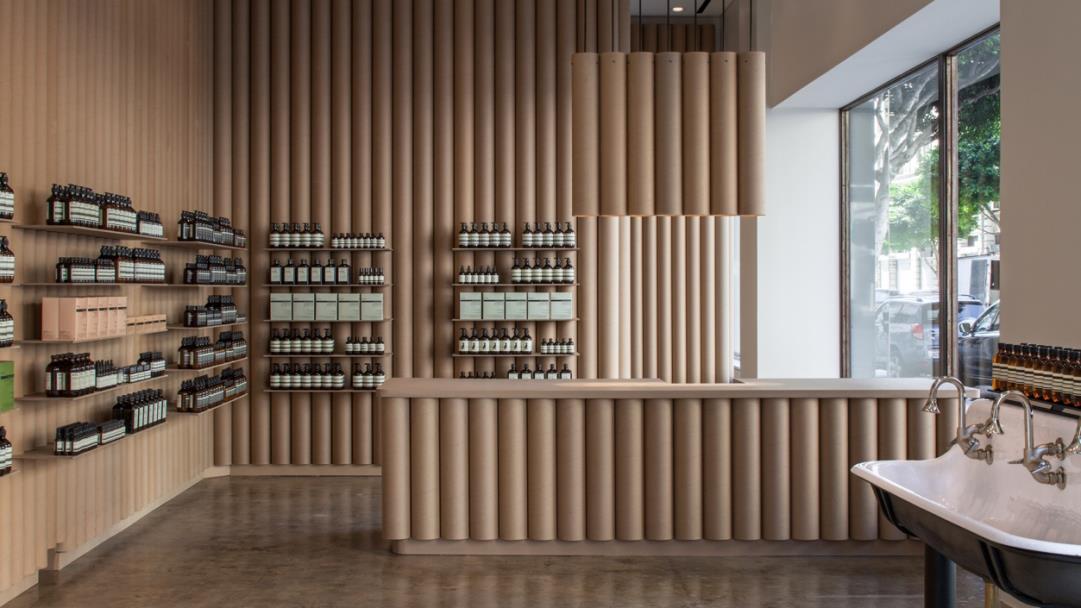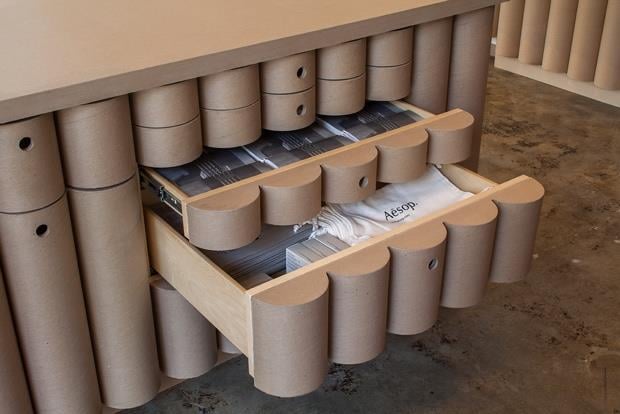 Aesop Store Interior - Photo: Dezeen
Aesop store interiors in Los Angeles, USA by Brooks + Scarpa created entirely using reclaimed cardboard tubing from fabric rolls and recycled paper. Shelves and countertops are formed using cross-laminated paper.
In summary, as brands move forward, it is important they think of how sustainability can be used not just in their collections but also within all the brand aspects including store design, window display, labour, production processes and packaging. With changing consumer demands and sustainability being not just a 'trend' but a priority to them, it is essential brands rethink and adapt their strategies to achieve sustainable visual merchandising.
Pallavi Varma writes this article.
Graduated in Visual Merchandising & Branding from London College of Fashion, she is the founder of @VisualWindows27 & Consultant in Visual Merchandising.
MORE ARTICLES BY THIS AUTHOR

Pallavi Varma
Founder of Visual Windows & Consultant in Visual Merchandising Graduated in Visual Merchandising & Branding from London College of Fashion, UAL