How Visual Merchandising Is Changing the Outlet Retail Experience!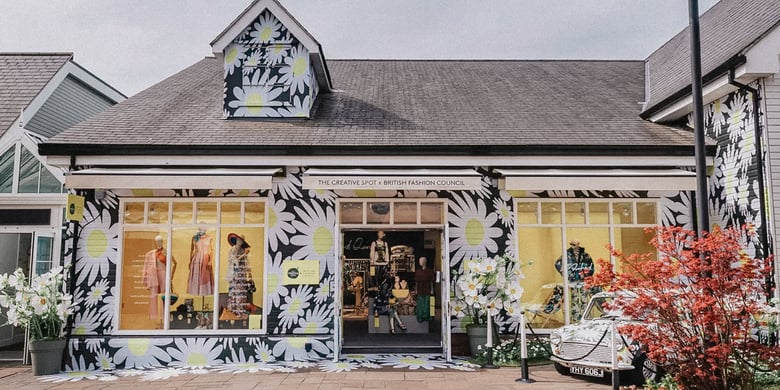 How Visual Merchandising Is Changing the Outlet Retail Experience!
One of the certainties of working in visual merchandising is that nothing is ever certain. Retail has seen some huge changes in the last decade, some expected, many unprecedented. The ability to change and adapt the 'look and feel' of a brand has long been cited as a key element of success. Whilst our high streets have struggled with changing shopping habits and lack of investment, outlet centres have thrived by challenging established price points. But can they compete as a premium shopping experience?
Product Merchandising
If you have a preconceived idea about outlet centres, think again. Gone are the days of chaotic stores filled with end-of-line products and surplus stock. Product ranges now are carefully curated, often bought specifically for the space and with the local demographic in mind. This cohesive approach has a huge impact on how product is presented. Within fashion outlets, consumers are able to outfit build from coordinated collections, increasing add on sales and ultimately, average spend. One of the biggest brands in outlet retail, Ralph Lauren, feature specially bought collections across all of their sub-brands. Stock is merchandised to detailed guidelines, densities and placement have been carefully calculated to maximise profit. These stores don't look like a discount experience; accessory lounges feature minimal product within luxury fixtures and mannequin groupings are elegant and considered. The 'less is more' approach seems counter intuitive for an outlet business but it works, simply by making the product look far more desirable.
Retail Trends and Store Design
Store design has become a key success factor for outlet centres, with brands raising the bar at every successive opening. Retail trends that are lauded on the high street are also very much a part of outlet strategy. For adidas, these trends inform their new or refurbished outlet stores across the UK as they strive to improve the customer journey. Featuring diverse mannequins, nods to community building through their 'adiclub', localised window messages and a focus on sustainability; adidas outlets are very much ahead of the game within visual merchandising compared to the many sports stores situated on the high street. This attention to detail is filtered down from their flagships, sometimes literally, with high end fixtures and mannequins re-purposed to support their sustainability initiatives whilst ensuring a premium shopper experience.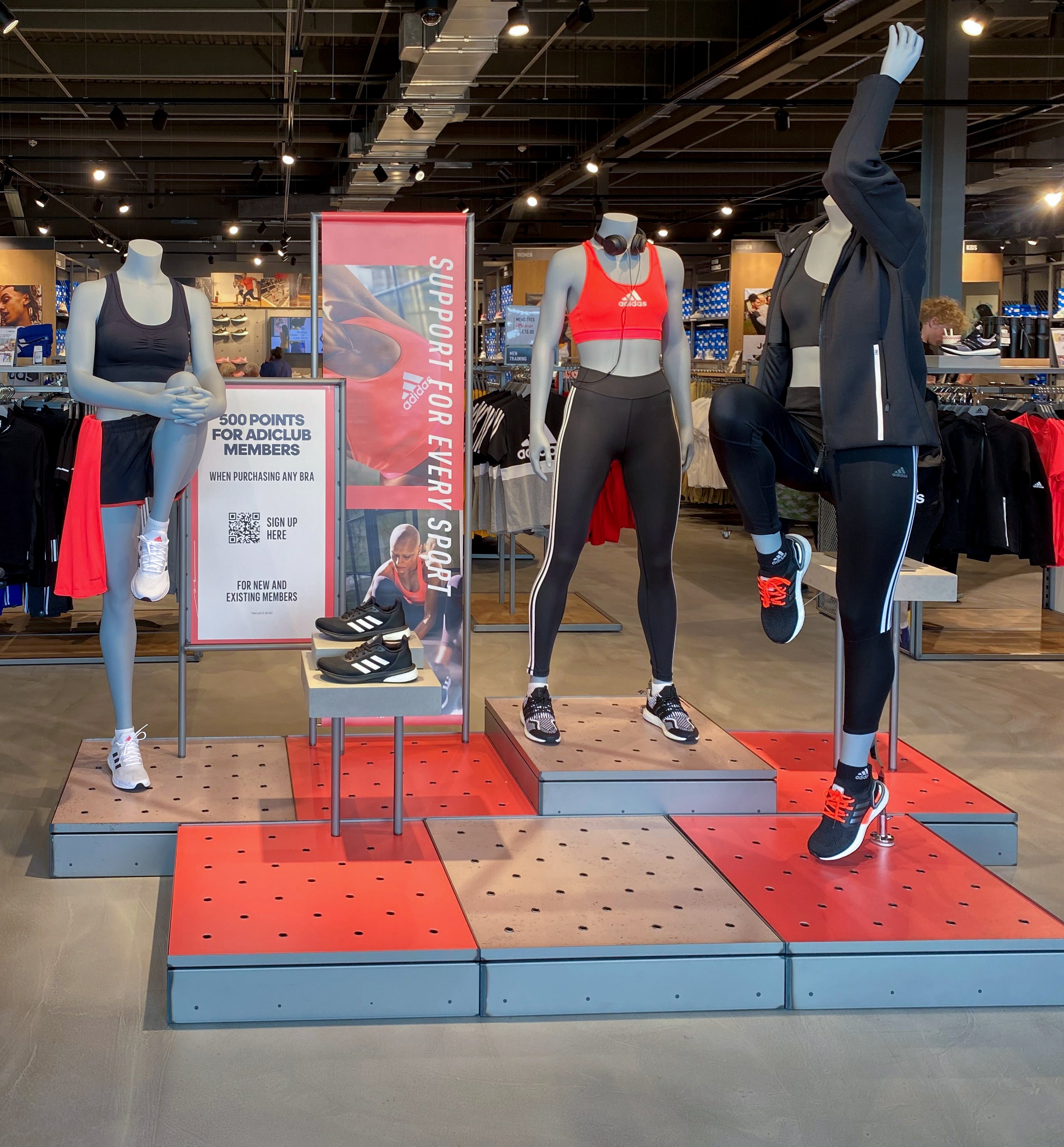 Brand Mix
Getting the brand mix right is key for outlet centres. Sports stores like adidas are popular but so are homeware and F&B outlets. Beauty and jewellery brands elevate these centres, with top brand names like L'Occitane and Pandora presenting stores comparable to their full price counterparts in terms of aesthetics. Pop up shops are relative latecomers into the outlet world but perfectly suit this business model - a winning retail formula is to create an element of surprise for the visitor. Striking store designs and wow factor are key to these transient spaces.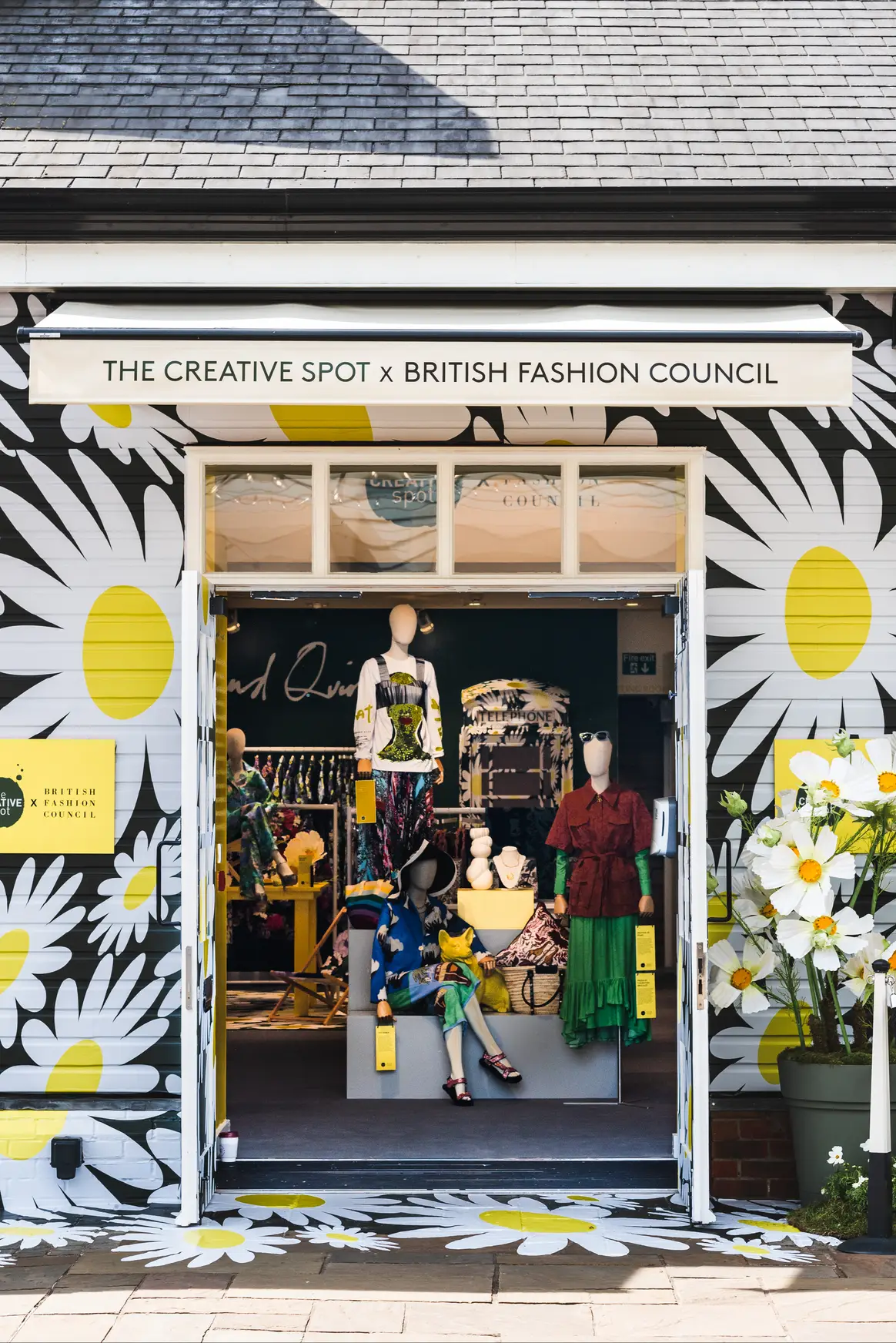 Image FashionUnited
For example, The Creative Spot X British Fashion Council pop up boutique recently opened at Bicester Village, showcases some of the UK's most exciting designers. With a façade covered in a huge daisy print and a matching classic British Mini parked outside, it's a definite showstopper. Created by designer Richard Quinn, the store also features several products designed exclusively for Bicester Village, a great way to encourage physical footfall!
The Experience
With online sales rocketing throughout the pandemic, it's safe to assume outlet centres suffered as a result of their 'bricks and mortar only' offer. That has now been flipped on its head with an enthusiastic return to real life experiences. Peter Corr, General Manager of McArthurGlen Ashford thinks it's a mistake for outlet centres to compete against different retail models, be that online, the high street or designer boutiques. "Our outlet centres strive to give visitors the finest retail experience possible in a unique environment".
From an aesthetic viewpoint, his recently extended centre in Kent has incorporated nods to its geographic location within the 'Garden of England' by creating Europe's largest living wall, introducing biophilic design to generate a positive atmosphere.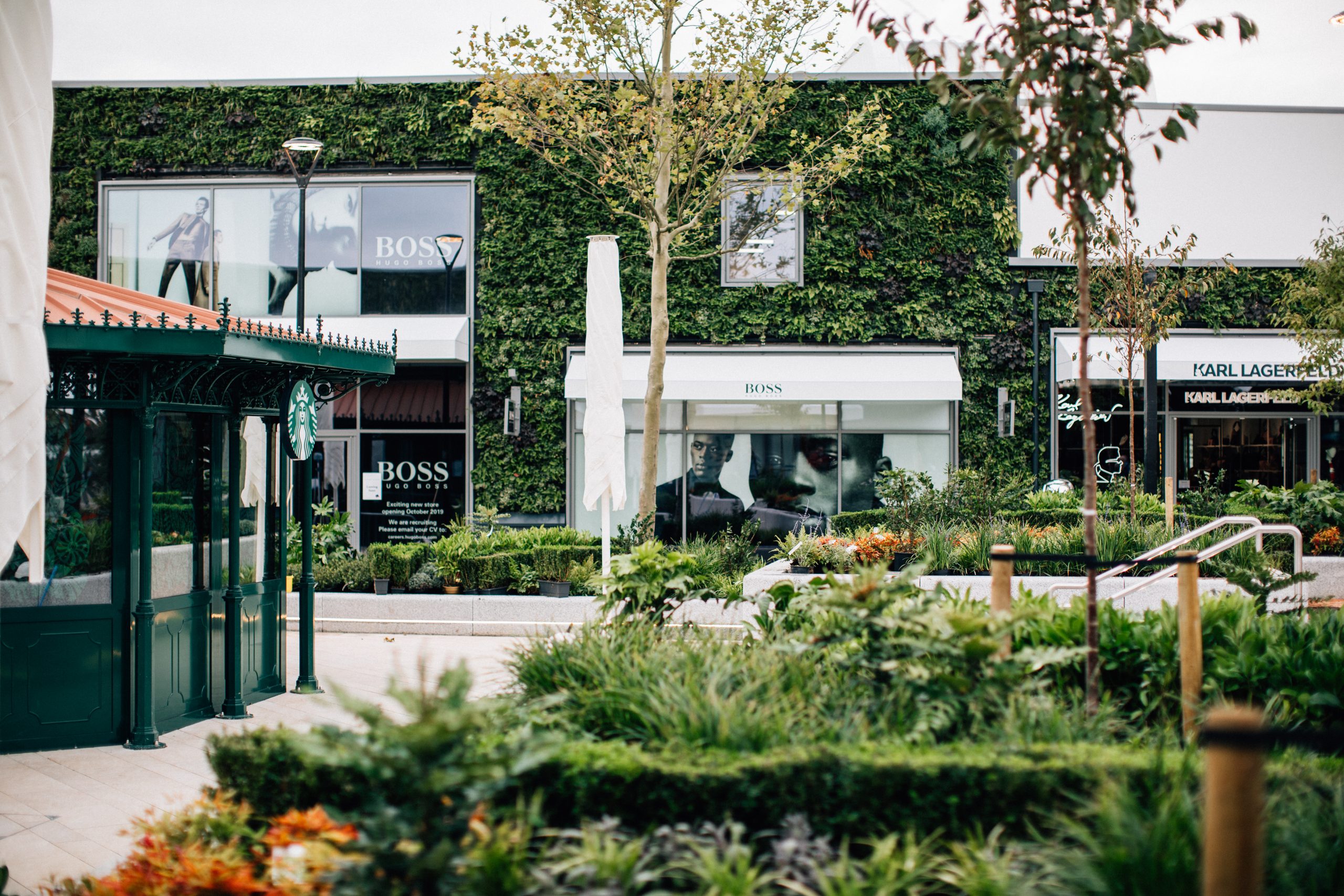 Image Business Leader
For Corr, it's about how the customer is made to feel across all touchpoints, from aesthetics to amenities and customer service. The role of VM crosses many of those functions, through store design and events, to the often-overlooked elements of housekeeping and maintenance. All components that combined, define how a place is perceived.
Outlet retail is no longer a predominantly 'pile it high, sell it cheap' business model; shopper experience is key, with visual merchandising playing a vital part in providing that. Where outlet centres really excel is in ensuring the fundamentals of physical retail are the best they can possibly be through constant investment and re-invention. Lower prices are just one part of the story, the wider appeal of these centres can be found in a shopping experience that provides a day out, somewhere that feels like a place where you want to spend time and money.
About Katy Trodd
Accomplished London based retail consultant specialising in visual merchandising and styling, with a diverse portfolio of clients, from global corporate brands to high end designers and small independent stores.
Never miss out on latest news in the retail industry on Facebook, LinkedIn or Instagram.