Visual merchandising for the metaverse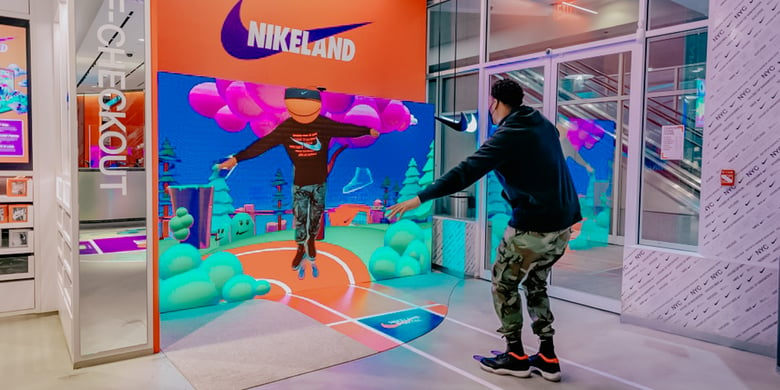 Visual merchandising for the metaverse
As is customary, January has seen us inundated with trend predictions for life in 2022 and beyond. This year however, one subject has been prevalent in almost every report – the metaverse.
Much debate has ensued on whether it is all hype or prophecy. But whatever your stance, it's certain that by virtue of that hype, high profile companies are taking it seriously enough to substantially invest in its development. Web3 is in its infancy and whilst predictions can be made regarding its influence or longevity, the possibilities are seemingly limitless for those with creative minds. Strategists predict that the metaverse will touch most areas of our future lives and retail is no exception.
While there is no shortage of brands delving into this brave new world of NFT's and digital fashion, what is less common is the inverse practice of brands showcasing their virtual products within physical stores. According to Fortune, "an NFT stands for non-fungible token, which basically means that it's a one-of-a-kind digital asset that belongs to you and you only. The most popular NFTs right now include artwork and music, but can also include videos and even tweets". Physical and virtual brand communities seem like separate entities right now but in 2022 we are in a unique position of working out how this emerging online world can successfully blend with traditional store design.
Luxury Skins
Luxury fashion has been one of the first sectors to significantly pursue business in the metaverse. In an online world where products are bought purely for status and creativity, it's logical that high end fashion will be successful. Balenciaga, D&G and Ralph Lauren have all created exclusive digital garments or 'skins', but visit one of their bricks and mortar stores and you're unlikely to see any reference to them.
Harvey Nichols were one of the first department stores to showcase an alternate reality by partnering with RTFKT Studios, who is now part of the NIKE family, to launch their Clone X Project in store.
Fans were encouraged to visit the menswear department, make creative videos of the avatars displayed on screens and share them on social media to be in with a chance of winning a 'clone' NFT of their own. It could be argued that the Harvey Nichols campaign simply utilised digital screens to incorporate the online world. Regardless, the look and feel of the physical space seemed like a move towards acknowledging shoppers' online identities.
Over The Counter NFTs
This month, Selfridges have utilised NFTs as part of the store design in a much more considered way, within their latest Corner Shop takeover from Paco Rabanne and Fondation Vasarely. This collection celebrates the work of Victor Vasarely, an innovator in the Optical Art movement. As a space designed to be constantly evolving, it was only a matter of time before the Corner Shop embraced the metaverse. Here, striking Vasarely designs wrap the windows, while physical garments are displayed on mannequins that sit next to original artworks. Many of those artworks and a selection of rare dresses can be bought over the counter as NFTs, without the need for crypto currency - a world first for the UK department store. The pop-up "is designed to make purchasing NFTs as familiar as shopping for clothing in store", says Jason Attard, founder and CEO of Substance, the NFT platform that worked on the project.
Dream it. Make it. Play it.
But it's not all about fashion. Nike recently built their much anticipated, immersive space called NIKELAND in online gaming platform Roblox. Designed as a place to create and enjoy games within an online community, it is summarised by their tagline "Dream it. Make it. Play it". Always at the cutting edge of store design, Nike are now bringing that virtual world back into the physical one at their flagship 'House of Innovation' in New York. The first floor has been "transformed into an augmented reality version of NIKELAND," according to the company. The sales floor uses the same visual identity as their Roblox arenas but houses large screens to allow customers to play within the real-world Nike community.
Showcasing NFTs
Whilst big brands have huge budgets to experiment with, a simple but powerful example of bringing NFTs into the physical space was seen at the British Museum last year. To coincide with its Hokusai exhibition the museum sold NFTs of 200 of the artists' works. Those NFTs were highlighted in physical form in museum showcases within a designated pop-up shop. Using a familiar way to engage and inform visitors whilst introducing such a new concept is a clever and appropriate use of space.
Conclusion
It's hard to deny that the buzz of new launches in the metaverse can drive new customers to a brand and propel demand. Opportunity lies in replicating that excitement within the store environment. Target markets need to be considered, but for Gen Z and Alpha, shopping this way could be the norm. It's not unthinkable that in a short time store customers will be asking questions such as "Does this dress come in digital?".
But in 2022 there is a looming gap between physical stores that disregard the metaverse and online communities that create virtual products with no real-world equivalents. The two spaces don't quite co-exist yet. Within that gap the possibilities for store design and visual merchandising are as mind blowing as your imagination will allow.
About Katy Trodd
Accomplished London based retail consultant specialising in visual merchandising and styling, with a diverse portfolio of clients, from global corporate brands to high end designers and small independent stores.
Never miss out on latest news in the retail industry on Facebook, LinkedIn or Instagram.