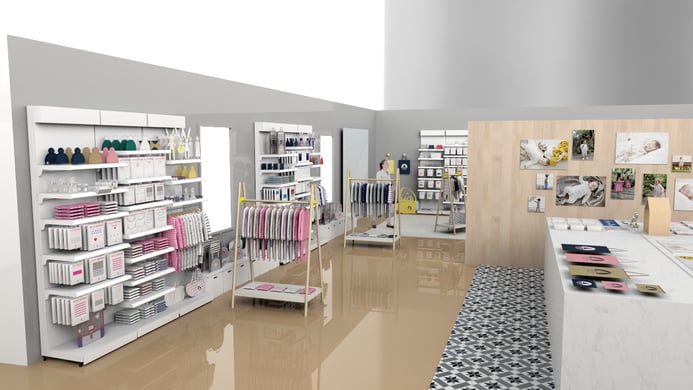 How Petit Bateau uses digital simulations to optimize its in-store merchandising strategy

Two years ago marks the start of the Petit Bateau and IWD collaboration. The French apparel company, known for its baby and kids clothes, adopted IWD's DISPLAY software, a SaaS platform that allows brands to digitally simulate their in-store merchandising strategies and avoid an otherwise long and labor-intensive process.
Until 2018, Petit Bateau used a showroom to simulate in-store merch layouts. The Visual Merchandising team had to fold, unfold, and hang clothes in store to then take pictures of the set up. Next, they manually added notes regarding implementation for the distribution network, which is comprised of 215 points of sale in Europe.
"They are long and inflexible processes", comments Anaïs Saudubray, Visual Merchandiser at the kids clothes company. Writing the notes for POS took up 95% of the team's time. "We wasted time on operational tasks which meant not taking the time to create and to benchmark".
Define the merchandising strategy before the collection launches
The Petit Bateau VM team, comprised of 5 people, sometimes noticed that once it had arranged the newly launched collection in the showroom "it didn't have the desired effect… But it would be too late in the development of the collection and product assortment". The VM team could not intervene or give their recommendations earlier in the process.
It was most noticeable during buying sessions when buyers were shown new products and the new collection in-store. Teams discover the collection and set up, and could imagine what the store was going to look like when buying the product assortment… to then create their merchandising strategy.
A unique and collaborative platform
Two years ago, Petit Bateau was in the midst of a vast digitization plan to modernize their tech systems. One of their solutions was to adopt a software tool specialized in merchandising; made by IWD. The DISPLAY platform is a SaaS (software as a service) that allows brands to create planograms and share them with its distribution network.
On one side, it includes the brand's activity, and on the other, a 3D workspace that allows users to virtually arrange the collection by product, fixture, or POS advertising. "It allows virtual staging" summarized Guillaume Vignerot, Client Director at IWD.
One of the main preliminary phases when starting such a project is creating the database of assets. "In the fashion industry, there are a lot of products", explains Guillaume, "the structure of the database is therefore very important". First, IWD gathers product visuals, codes and store furniture which are then categorized in folders, just like in a toolbox. "We build the project by integrating all the assets".
A cloud-based SaaS solution provides a unique platform that is continuously updated. Users can have different profile types, collaborate with one another, and instantly send merchandising guidelines to the entire network. The field team receives precise documents and visuals. Guidelines are sent to store teams with quick instructions accessible on tablets. For example, if a particularly rainy season calls for the rain jacket to be brought to the front of the store, HQ can directly send directives to their stores. "It allows brands to be reactive. It's important for fashion brands to adapt and change their merchandise" says Guillaume.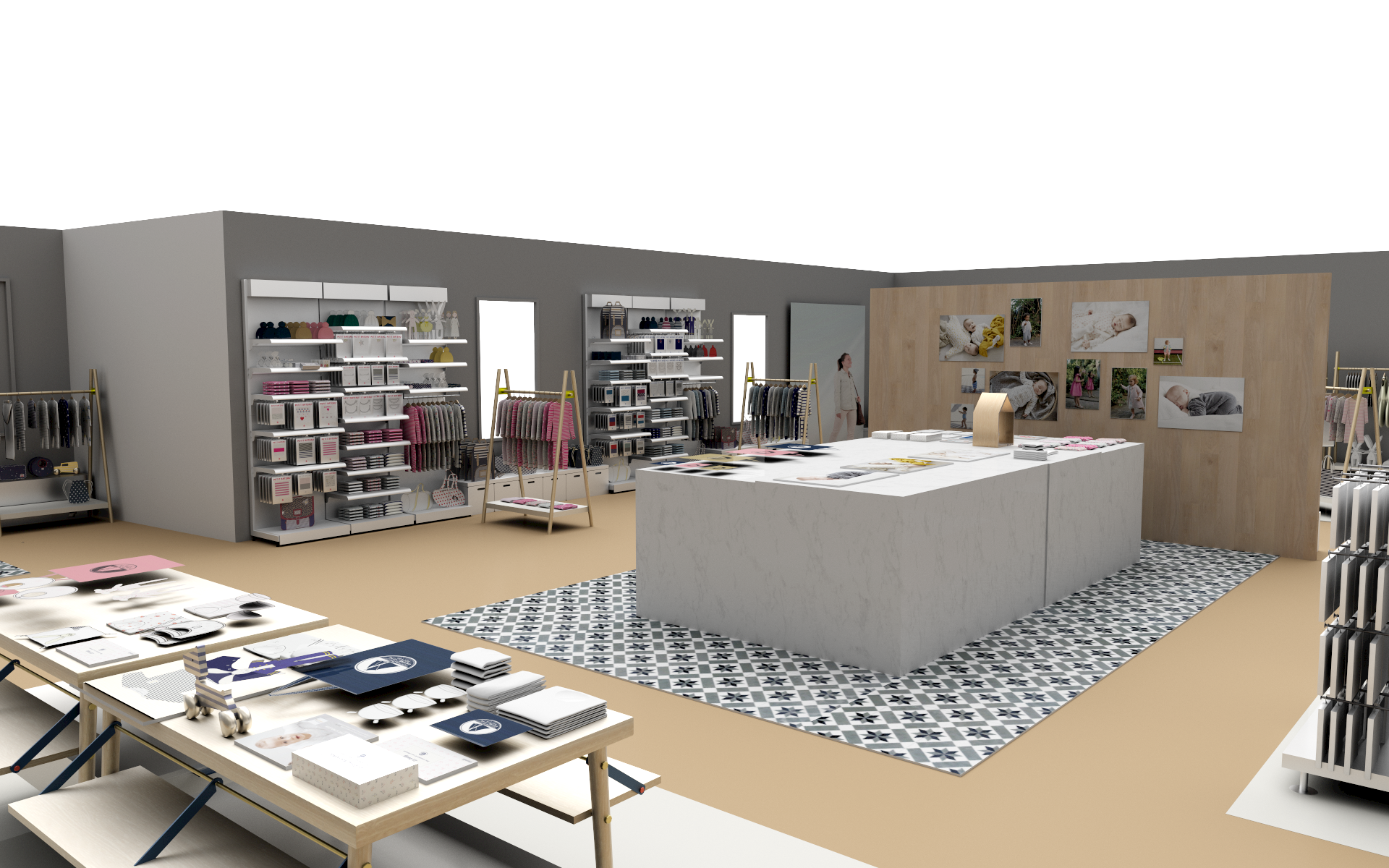 More time to create
Petit Bateau explains "adopting DISPLAY was rather quick. Depending on the user profile, their ease to use such a platform, and their knowledge of 3D, it took about two to three weeks" says Anaïs. "Integrating models and icons in advance is complexe".
Time gained for the brand, other than the increased flexibility, is undeniable: elaborating the aforementioned notes now takes the Petit Bateau VM team 60% of their time, allowing them to work on upcoming collections. The tool, 100% web-based, also enabled merchandising activities to continue despite store closures. "Today's pandemic context pushes remote working. This tool is a considerable advantage" mentions Guillaume. "We could not have delivered the upcoming season without it" adds Anaïs.
Another advantage mentioned by Petit Bateau was a better collaboration between teams: "Visual Merchandisers are involved in the collection development process, and bring a more qualitative point of view". After learning the ropes, the Visual Merchandising team is now fully autonomous in integrating their collections in DISPLAY.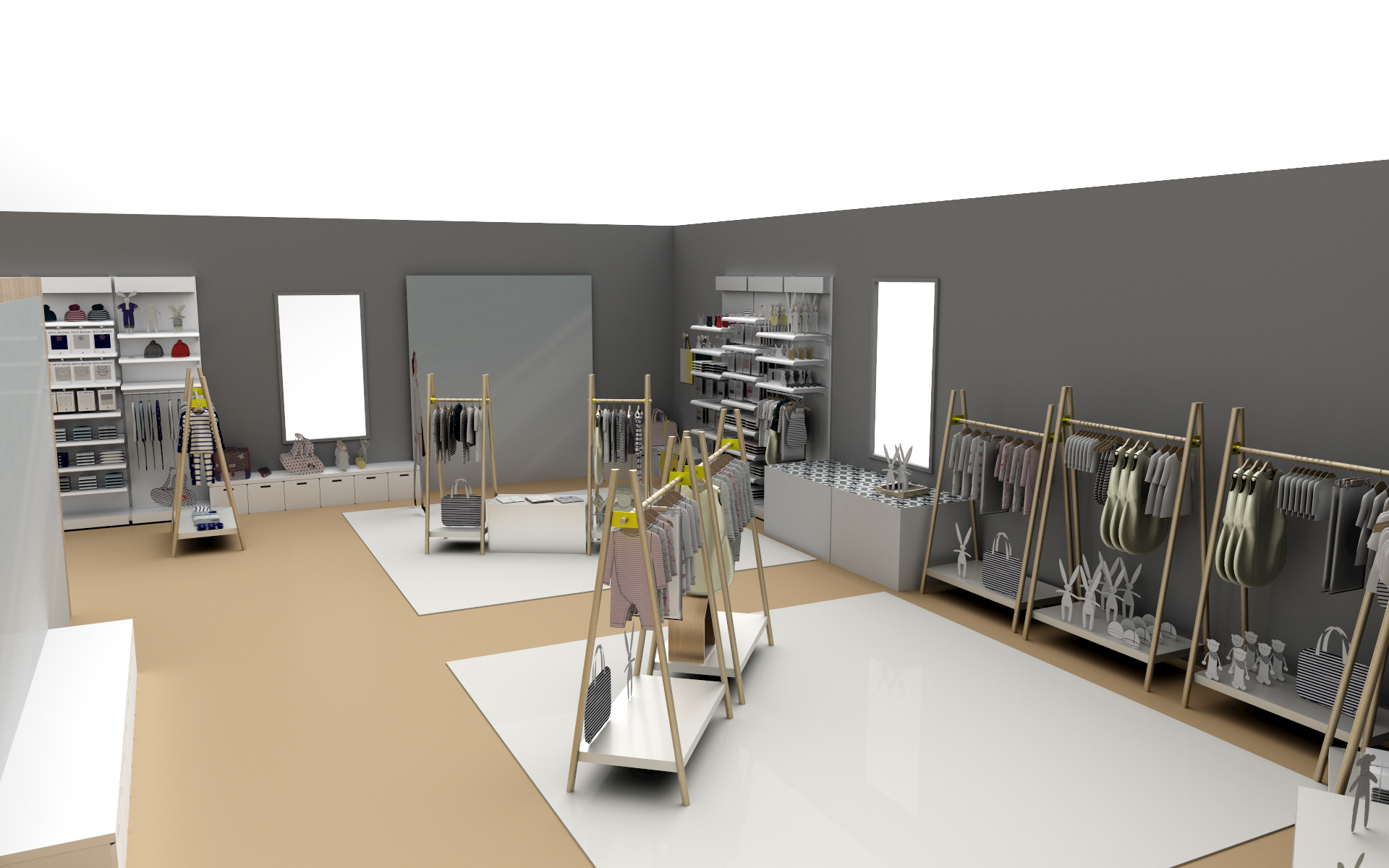 Possible futures
IWD, who's clients are large corporations like LVMH but also L'Oréal, Timberland, Vans, Nestlé or Kusmi Tea, offers an analysis tool that allows brands to refine their strategies. "3D store representation visually shows hot spots and cold zones with colors, product, and product categories that are performing well to analyze the merchandising strategy" explains Guillaume, "we can therefore decide to add an accessory or a product to 'reheat' a cold zone".
Guillaume says "a well merchandized store plus a thought out customer journey increases sales by 25%". Place the right product, at the right time, with a structured merchandising strategy and shelves that are not overstocked, and voila. "Our solution gives the possibility to combine artistic jobs with analytics and to save time for creation and implementation".
IWD is working on developing two axes: using AI technologies or integrating new data to recommend and automate merchandise building, to manage stock in real time. It is also looking at developing the tool for a wider array of jobs. "We can also imagine that based on implementation notes, the integration and data analysis for new store openings and special events can be automated" concludes Guillaume.