Retail & Digital: we are stronger together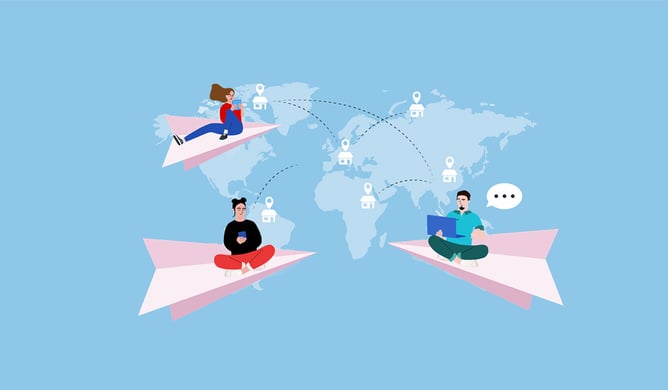 Retail & Digital: we are stronger together
In the midst of this very particular holiday season, the current global situation inevitably invites us to reflect on the question: what will become of retail?
In most countries around the world, some physical stores are closing their doors as governmental restrictions remain in effect. One can wonder if these closures are solely the consequence of the Covid crisis or if some of them had already been struggling for a while and can no longer cope with market demands? Covid-19 would therefore be an accelerator but most likely not the only trigger for these numerous closures.
Professor Fernando Polo (IE University) explains that, in 2003, the SARS crisis in China catapulted digital habits such as the adoption of e-commerce and mobile telephony.
Today, 33% of retail transactions in China are done online, while for most other countries it barely reaches 10%.Three drivers will push an unprecedented wave of digitization around the business world:
Consumer habits. Quarantine has consolidated some digital behaviours and introduced new ones like quarantinis. Some activities, like online shopping and video calls, now have a larger base of users since they have been adopted by other population segments.
Some of the new habits are circumstantial but others will become structural.
State Regulations. The number of rules around data and privacy is rising considering the development of mobile applications that trace infected people. The safety and hygiene of public spaces like airports, stadiums or construction sites are now a concern and have to be abided by people. Finally, environmental measures that could affect daily commute could also arise given that the air in cities is cleaner because more people are working remotely.
Private and Public Investment. Public investment will come first as private capital reduces investments to limit risks. Entrepreneurs, pushed by unemployment, will create new digital startups making Big Tech the winner of the next decade. Corporate investments are improving efficiency by focusing on digital marketing or online events, while also looking at corporate ventures and startup accelerators. Lastly, venture capital has decreased but will increase investments in all things digital.
There will be both winners and losers coming out of the COVID 19 era. To win it over, retailers and brands in general should be ready to remove old stoppers and become much more digital.
Omnichannel strategy is no longer an option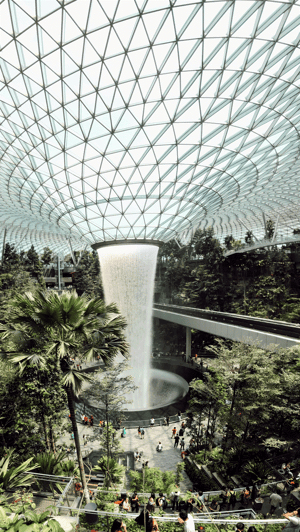 An obvious example is the Travel Retail sector, where digital is not always privileged but for which Vogue Business is predicting a rebound (Yay!).
Craig Johnson, Vice‐President of Marketing for Pernod Ricard Global Travel Retail, said in The Spirits Business "We have taken this as an opportunity to collectively reimagine the future of retail. We expect to see strong growth in e‐commerce, with click and collect being a key driver, and we're excited to continue expanding this channel."
"We will be launching new digitized retail experiences in the coming months, which will offer new experiences for our partners and consumers," adds Johnson. "We will, of course, continue to innovate and share new products, such as travel retail exclusives and limited edition liquids, releasing these in line with consumer travel."
Research by AOE suggests that travellers are shifting away from impulse purchases in airports towards planned purchases by doing some online research beforehand (and buying from ecommerce sites like Amazon, if items are cheaper than at the airport). AOE also found that 53% of shoppers make the decision to buy duty free before they get to the airport, versus 47% who visit duty free on impulse.
To align with this behaviour, the travel retail market is increasing its investment in omnichannel capabilities. And generally speaking, retail is becoming omnichannel. The best example is the alliance between the Chinese e-commerce giant Alibaba, the Swiss luxury group Richemont and the British online sales site Farfetch. A 1.15 billion dollar operation carried out in the midst of a pandemic.
Visual Merchandisers, key players in the futur of retail
Many customers look forward to live retail experiences like walking through malls, window shopping and trying on clothes.
A recent survey showed that 51% of consumers say the biggest drawback of online shopping is not being able to touch, feel, and try a product.
According to Deloitte brick-and-mortar stores are still extremely important and are supposed to respond to consumers' increasingly high expectations. They tend to be the place for complex experiences and could become a kind of showroom while customers buy online or with click and collect.
Doug Stephens, also known as the Retail Prophet, emphasizes the brick-and-mortar store's role in delivering complex experiences, rather than just selling goods. He also said that "The purpose of retail will no longer be to solely convert every customer into a buyer of goods but rather transform them into disciples of the brand itself."
In this particular context, Madeline Travell, VM at Nordstrom believes that merchandising and "VM professionals are essential to successful reopening of brick and mortar retail locations because our attention to detail is what makes a brand stand out. Whether it be the product selection, fashion, customer service, or displays, retail stores must dial in on what makes their brand attractive."
Innovation and adaptability aren't as challenging as they seem to be
Small restaurants, bookstores, stores have set up click and collect or delivery logistics within a few days. We can unanimously agree that the most surprising discovery is the sheer pace with which big and small companies have innovated under the immense pandemic pressure. While the pandemic and its fallout do not bode well for all retailers, there does seem to be a willingness to try new things and take risks.
To emerge successfully, it is urgent for retailers to focus on 3 important elements: people, process and technology. According to Gartner, retailers will give priority to technologies that enable flexibility and efficiency in the following key areas:
Reinforce the underlying infrastructure for fulfillment execution
Strengthen the store for flexibility in execution
Enable associate digital dexterity, enhancing the associate experience, including human / machine collaboration
Transform merchandising processes to enable highly effective planning and execution
Proactively anticipate and respond to change signals via AI
Refocus on cost optimization as a continued discipline
In an interview with the daily newspaper Les Échos, Jean-Paul Agon, CEO of L'Oréal, said he has been pushing for several years for virtual conferences. "This crisis made us discover, out of necessity, that it could be valuable. Things are going to change, because we have discovered new ways of working and operating".
In the same way that virtual conferences have proven to be effective, concerning the merchandising processes, travelling for the purpose of checking stores seems to be revised. Do we really need to travel, to physically move around to visit and monitor the stores? Sending employees to the field all over the world tends to become increasingly rare (too expensive, very tiring, and a waste of time) and the Covid crisis is considerably accelerating this downward trend.
Fortunately, collaborative Apps make it possible to replace this process. Platforms such as IWD's NETWORK, allow corporate employees to check, from the comfort of their home, if stores are compliant with the merchandising strategy. Users can of course, via this collaborative tool, provide feedback, correct, give advice, send surveys and find out the profitability of his stores.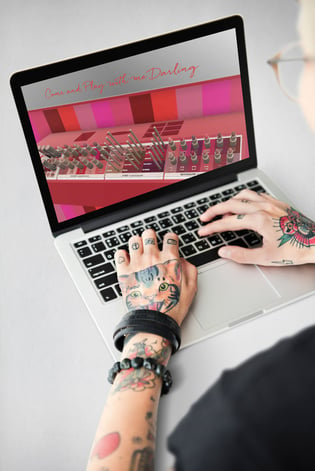 Digital solutions are tools that provide peace of mind for teams. During lockdown, thanks to Saas planogramming solutions like IWD's DISPLAY, many Visual Merchandisers were able to continue creating their merchandising planograms online and sharing them with worldwide teams. No need to take the computer tower home. A Saas solution, which gathers the entire product database online and allows content to be created and shared from anywhere at any time, eases teams' lives.
Digitizing merchandising processes clearly helps retailers do more, know more and sell more.