This is Brand Culture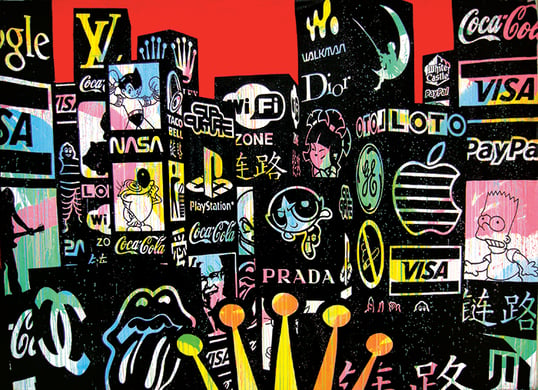 This is Brand Culture
Have you recently visited the Atlantis shopping centers in Nantes, Euralille, Les Quatre Temps or the Champs-Elysées in Paris?
The shopping experiences are now adapted to the post-confinement period where the scenographies are multiplying and the upcoming installation of major brands is confirmed. The quest for large spaces or emblematic places remains a priority for brands anxious to take root in their target audience, to win new fans, even in a post-covid19 period of quite unprecedented consumption.
You said brand culture!
We have always learned to live with brands and what they have put in front of us. Often the manager is marketing: marketing wants better, more customers, more market share and ultimately to create a tribe, a culture, with a brand affiliation. How to create the magic of brand culture?
To brand or not to brand
Unlike ads which are a shortcut to reaching an audience, brand culture will be about creating a real story to gain recognition in the market and create ideas that spread. The confinement period will have been difficult, even catastrophic for many stores where the most resilient are those who will have an omnichannel presence with real added value in their discourse such as the promise to buy local, eco-responsible and where stores that will offer solutions with hygienic handling of products stand out.
The pandemic is arguably the turning point where brands will accelerate their transformation and where the story you tell is going to change people and direct them to a specific place. At this point, you are required to take action: join a club, purchase a service, or personalize a product so that your new customers continue to tell your story and integrate your product into their daily lives.
"Experience won't just sell products. Experience will be the product. " writes Doug Stephens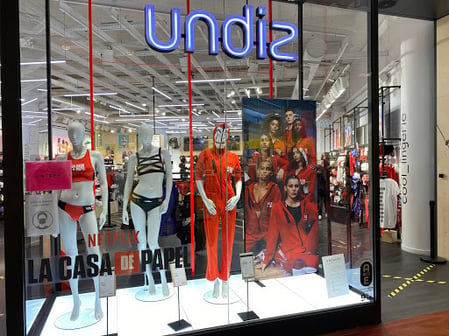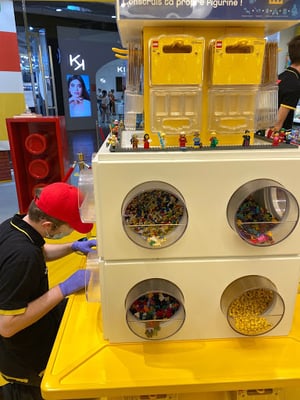 Adopt the "La Casa De Papel" style and identify with a strong license - Undiz Euralille 2020 / Stimulate your creativity while having fun. The "Lego" Team is now doing it for you! Undiz Euralille 2020
A brand exists as long as people are not indifferent to your image. Once that time comes, it will then be time to think about opening a flagship store to ensure continuity in commercial development and brand awareness. Even if the Flagship Store does not have an exclusively commercial vocation, the format corresponds to a real demand from shoppers to come and discover, touch and see the product with their own eyes.
Last May, we could read in an article by Frédéric Bianchi from bfmtv.fr.

"We estimate at 30% on average, and up to 50% for certain points of sale, the drop in attendance compared to the same week last year; On the other hand, this first wave of post-containment customers had obviously come to shop, with very good rates of transformation of visits into purchases. " said Yohann Petiot, General Manager of the Alliance du Commerce questioned.
The role of visual merchandisers is therefore essential to improve the in-store customer experience, attract new customers and increase engagement.
"We are the representatives for promoting the brand. Clean, compelling, and composed displays are what VM professionals do to help encourage shopper interest " Extract from article by Madeline Travell
Flagship and concept Store counterattack
The presence of brands in digital is a necessity to create an omnichannel experience with the point of sale. However, this virtual aspect is not a supremacy that will crush "brick and mortar" stores. The current situation will certainly influence our way of understanding physical commerce, which still represented 73% of sales according to the 2019 Smart Retail Study.
Human relations are now increasingly virtual with social networks where the watchword is to have followers and likes. However, a virtual relationship is often short-lived (even if brands are increasingly developing their influence strategy _ see Kolsquare study) unlike a face-to-face contact, where the objective is to get closer to its target consumer and create a trustworthy relationship.
Visual Merchandising Awakened!
In addition to creating a unique atmosphere adapted to groups of individuals, visual merchandisers will rely on several resources such as sensory marketing, a membership marketing where each individual is identified with an icon or related to a story. Stores are therefore brands' territory where design plays an influencing role with a unique staging of the products.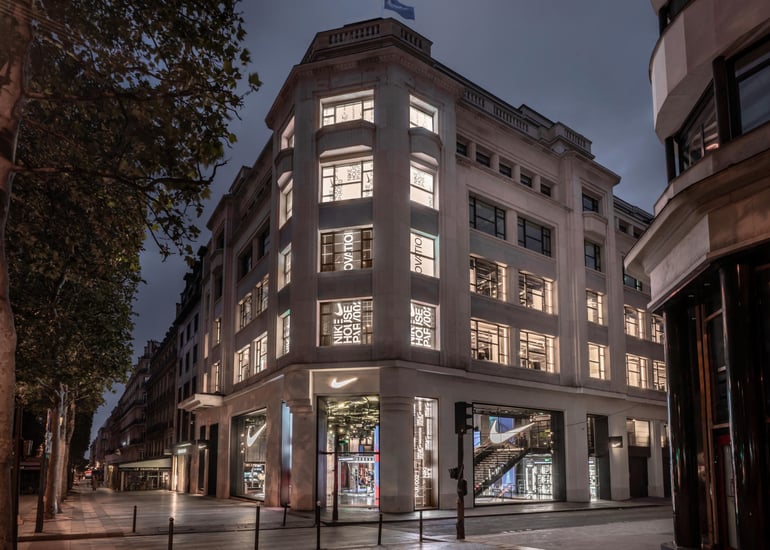 Paris "House of Innovation" _ Nike 2020
Whatever the case is, the objective is clearly established: to impose brands by making them more visible and to get closer to consumers. Now, can we ask brands to calculate a flagship store's profitability? It is with differentiating scenography, thoughtful visual merchandising, and storytelling that merchandisers can create real added value and make your customers feel like they are the ones that need your product and lifestyle that comes with it.
This is brand culture. You can create the store design you are proud of, spread your ideas and boost your branding.
Cover: Illustration: Queen City "SPEEDY GRAPHITO"