Situ Live – introducing experience to physical retail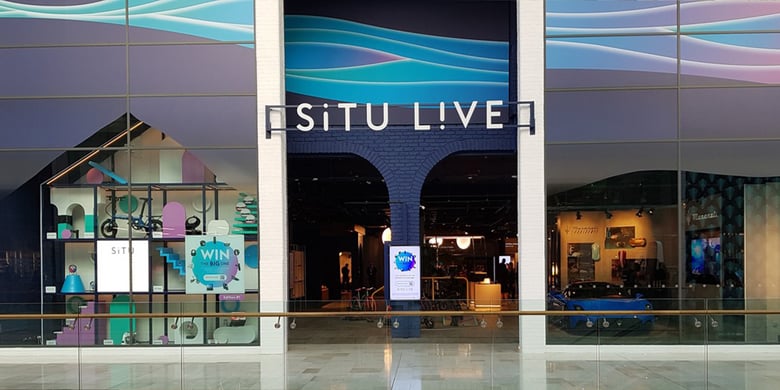 Situ Live – introducing experience to physical retail
With so much being written about the demise of physical retail since the pandemic arrived, it's reassuring and uplifting to see how some retailers have embraced this challenge and made huge progress.
Brands like Nike, Apple, and Burberry have ramped up their store activities after internalizing the impact of the pandemic and refocusing on rather than withdrawing from physical stores. Moreover, it hasn't just been established brands that have been doing this. A new comer to the physical retail space opened its first store at the end of 2021 in the Westfield London mall in the UK.
Situ Live is a genuinely fresh approach to physical retail for a number of reasons. The store is a showroom for a range of brands across several categories. They are presented in distinct zones throughout the store, each one with a distinct identity. These include a lounge, bedroom, kitchen, home office, gym and even a Maserati car showroom.
The lounge and bedroom areas include a range of smart technology, packaged and presented in detailed roomsets that help visitors contextualize the products and imagine them in their own homes. This is a level of detail that many retailers fail to recreate, and as result, reduce engagement from customers. The better the spaces are dressed and merchandised, the more easily shoppers can understand the relevance and usage of the displayed products.
The kitchen zone is a great example of this detail, with cooking and baking taking place throughout the day. The kitchen is also designed to accommodate a large number of visitors, allowing for cooking classes and other demonstrations to be scheduled during the day and special evening events.
The home office space has grown in relevance over the past 20 months, and includes some clever space saving and ergonomic solutions. This also applies to the gym area, which has become, at least for some of us, a focal point during lockdowns.
The one area that stands out as different to the others is the bright blue Maserati car located just inside the entrance. Maserati has been keen to work with Situ Live, to deliver a fresh car buying experience. The vehicle chosen, the MC20, is new 'Super Sports Car', befitting this new retail environment.
Does this car work in a space like Situ Live? Only time will tell. This is a space that defies the conventions of physical stores, and will no doubt deliver a number of surprises as it evolves and matures.
Another unusual feature for a store is the presentation stage. This allows for a range of presentations and performances to be hosted in the store, offering greater scope for the space and its visitors.
Each area is accessorized to feel familiar and inviting. Once in a zone, there are a number of products that are designed to enhance, simplify or automate aspects of your life. Everything is presented by the store staff.
Even the staff are different. Many are actors or performers, resulting in a wonderfully engaged experience as they welcome shoppers, demonstrate products, and enthuse about the solutions on display. I have talked about great staff making a real difference in stores for years, and Situ Live has taken an innovative but highly successful route with their recruitment. The end result is an enjoyable interaction with knowledgeable and engaging people; something many well established brands could learn from.
The staff focus on one area each, so they can really learn about a particular category, and visitors experience different people as they move from one area to the next.
Another positive benefit of the recruitment strategy is the proactive creativity that the staff bring to promotion. The Situ Live social media has some fabulous content, where staff sing, dance, recite their own bespoke poetry, demonstrate products creatively and deliver a sense of what awaits in the store:
Nothing can be purchased in the store, instead there are QR codes that visitors can scan that take them to a range of websites. From there, shoppers can choose their preferred site from which to purchase. This is a real point of difference for visitors, allowing them to focus on understanding and experiencing products, and having them be free to make their own purchasing decisions at their leisure.
The first Situ Live store is located in the Westfield London mall in west London, with plans to open more soon. The response to this first space has been hugely positive, from shoppers, the retail industry, and the brands that have chosen to showcase products with the business.
It will be fascinating to see how this concept develops. It is most welcome as we look to evolve beyond the ravages of COVID and rebuild retail for the future.
About Ian Scott
With over 20 years of experience within the Retail and POP sectors, Ian can provide a fresh perspective, always with the viewpoint of your shopper and customer in mind. By combining a global understanding of retail, combined with developing innovation and measurement of ROI, he can help you gain clarity on your retail strategy and help deliver actionable and measurable solutions.
Never miss out on latest news in the retail industry on Facebook, LinkedIn or Instagram.