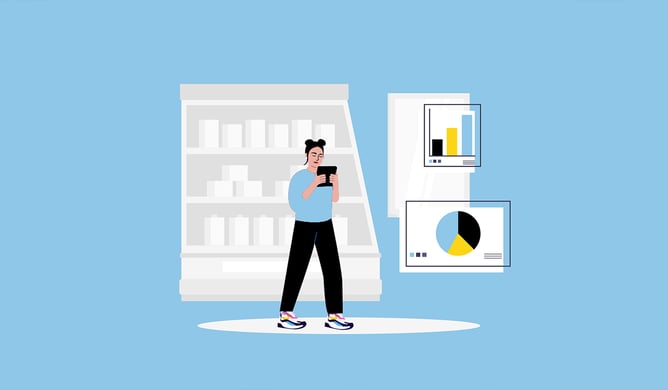 4 benefits of using online surveys for retailers

Retailers use mobile applications to improve the coordination between Field teams and Head Office managers to ensure that marketing or merchandising campaigns are carried out. In particular, they use online surveys.
Surveys can be a very powerful tool: they allow retailers to have structured data. The administrator at the head office can send them easily whenever needed. Here are the 4 benefits of using surveys for retailers:
Qualitative information that is uniform and stored in one place
"Social store monitoring platforms such as IWD, allow clients like Sephora or Louis Vuitton to collect precise information from their team and conduct specific market research. Before these online survey platforms, they would exchange messages, emails or phone calls and information would be spread out and lost. It was also more difficult to analyze the data received because it would be entered in Excel or other platforms without being homogeneous. Lastly, it was complicated to draw reliable and relevant insights from campaign analysis" says Chiara, Senior Project Manager at IWD.
Thanks to the Online Surveys App, everyone in the field answers the same questions. The administrator can easily analyze the answers or even view them as a graphic report.
"We really try to automate daunting tasks" says Chiara. Indeed, in the IWD App, the analysis of photos allows Headquarters to obtain an automated classification. Bye bye hundred photos received through all means of communication.
Structured data for more precise analysis
The online survey is prepared in advance by the HQ team as to not forget any question, and can be illustrated with visuals. Once answers are gathered, data is classified. It becomes visually easier for the head office to analyse large amounts of data and stay focused on relevant information.
Saved time
"Many of our customers at the head office complained about spending too much time on the phone. They explain that people in the field call immediately for any kind of question" says Chiara.
At IWD, we saw that if the survey questions were clear and simple, the phone stopped ringing. Adding an image or illustration to surveys really made a difference.
Whether it is to implement a last-minute promotion, updating a showcase, or any other changes that need to be made in-store, managers at the head office need to feed information to their entire network in real-time.
Online Surveys are sent instantly to chosen stores. If needed, they can also be duplicated and modified to reflect different changes from one store to another.
Flexibility
Another advantage of surveys is that they can be adjusted to solve new problems or needs. With other types of feedback collection tools, companies may need to train their staff and rethink the entire process. This can be a long and frustrating process that ends up costing time and money.
With online surveys, all you have to do is change what is needed; whether it's the format in which answers are collected (word or pictures), or rewording a sentence that wasn't clear.
All these benefits allow brands to improve considerably the branding consistency and the fineness of their strategy analysis.